In response to Ken Pickford in NetLetter #1328-
CP Air's McDonnell Douglas DC-10-30 aircraft, C-GCPI, tail #907 was named Empress of Honolulu as well.
Greetings, Duke J. Hartog ex. CP Air
---
Terry Baker refers to the article in "Wayne's Wings" in NetLetter nr 1329 which brings back memories regarding AOG.
At the early part of my career with TCA/AC I was working in the Purchases and Stores Department at LHR and would receive teletype AOG messages and telephone calls, usually in the middle of the night.
As we were unaware if the AOG was actually for an aircraft grounded or if the materiel was required for a planned maintenance, we would pursue, as soon as possible, the contacts we had for getting the AOG materiel in time for Wally Evans, our Customs clerk, to export the material on the next available flight to Canada.
After the Vanguard incident with fin 907, which became the "hangar queen", we were constantly bombarded with AOG requests quoting fin 907, until Vickers Armstrongs insisted that the correct fin number be quoted to assist them with the flight/unit performance of their equipment.
---
Betty Morgan refers to the article in "Wayne's Wings" regarding the DC-8 and shares this memory -
You mention the MD11 here. I think. I remember some memorable moments on board...
The last being from Cabo San Lucas on one and Jack holding my hand and watching the cockpit while they tried to get the cargo door shut before they gained altitude. He said he would never get on another one!
We lived on the South Shore on St. Margaret's Bay when the Swissair flight went in. Will never forget that night. The pall that hung over that Bay for so long with things washing up on the shores finally got to us and we moved to the Valley.
We had some marvellous flights. Lots of stories. I have a daughter in law (ex) who has been a flight attendant for 39 years and I have never seen a picture of her in any of the Netletters. She started in 1976 with CPAir. Martha (Marni) Morgan. She is 60 or 61 now. I forget. B.
---
During this past Christmas season, some 40 retirees from the Computer and System Services at Dorval exchanged memories and some photos.
Jim Fitzmorris sent in this photo of the C&SS sign -
This is the original sign that hung overhead when we walked through the doors to the old computer room. It was put up there when the site was first set up in the 1960's. It stayed there until the day after it was shut down. Fifty years later it is still 'hanging' proudly. Some days I swear I can still smell the cigarette smoke that stains the white (?) lettering, a hint of DuMaurier and Rothmans, a note of menthol and Mark Ten, perhaps a bouquet of Players and Export "A", ... and a lingering sniff of Gitanes or Gauloises.... ahhh those were the days...
---
Here is what Art Shibuya has remembered -


I flew to Montreal, I think it was on a weekend in Aug. of '72. Jim Pearce interviewed me and I also wrote the Brandon test. I must have passed and I started work in Sept of that year. I think being a CRUD must have been an initiation to C&SS. It was a great day when I finally got on to the model 50. I think there a was a competition as to who could finish the afternoon schedule the fastest.
I remember going to a party where we were drinking, as we normally did on days off and eating these strange tasting brown squares, the breakfasts at the Tavern on the Green, baseball games (I was sh***y). Yes, those were the days.
I left AC/CPI in '92 (with a little sojourn in BDA) and joined Bell Sygma / CGI in '93 and retired from there in 2013 as a systems/business analyst, mainly doing work for Bell. I have gone full circle now and moved back to WinterPeg. I am currently fixing up my house to sell and once sold plan to do some more travelling. I think, if there was ever a reunion, some of us would have to wear name-tags, so people would know who's who. Here is a photo of Art Shibuya in Japan.
---
Doug Olson's comment was - I am surprised that anybody remembers anything from those days. When we broke up, Molson's and Labatt's stock went down a ton.
---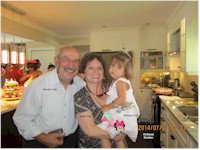 Edith Gal tells us - she retired in 2002 from Air Canada, and a proud grandmother of two boys and one girl (Mark, John and Adriana) ages 8, 7 and 2. I still live in Kirkland, Quebec with my husband Sandor Gal and we enjoy retired life to the fullest with friends and family. Here is a picture of us at my Granddaughter's 2nd birthday this past July 2014.
(We will continue this sage in NetLetter nr 1331 – eds)