In NetLetter nr 1326, following previous articles and the final flight of the Avro Vulcan, we had a story about the Avro Vulcan aircraft.

Click here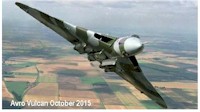 for a BBC News page which has several videos of the "last flight" tour in the U.K.
The last flying Vulcan bomber aircraft has flown over northern England as part of a farewell tour of the country.
The famous Cold War plane, which is based at Doncaster Robin Hood Airport, is due to be grounded this month after engineering backers withdrew support.
In its final series of flypasts, the bomber flew over an aircraft manufacturing firm in Brough, East Yorkshire, and the Greater Manchester factory where it was built.