Glad to see that you are all alive and kicking after all these years, seeing all your names brings back a flood of memories (all good!!). I am still with IBM, but I did manage to get a transfer to Calgary in the summer of 2011 and I am loving every minute of it, only regret is that I didn't move out here 20 years ago.
My wife Brenda and myself spend the majority of our time either camping, hiking or fly fishing as we are only about 40 minutes from the mountains. We also spend a fair amount of time in the summer working with Alberta Parks doing telemetry tracking of the female grizzly bears in Kananaskis Country and working with the Calgary Wildlife Rehabilitation Society. I figure I'm going to work for about another year and a half and them I'm done, going to pack it in and spend all my time outdoors doing the things I love to do... life's too short. Will keep in touch and if any of you are going to be out this way, please by all means drop a line!!

P.S. became a grandfather in Sept!!!
Jim Campbell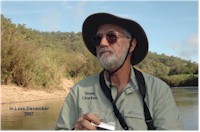 When I went for my interview, working for IBM at the time teaching paying customers about the new IBM370, I was met by two people, some programming manager and his secretary, I guess, who sat quietly and took notes. The manager, Andy McCready, asked very few questions, and told me mostly about pass privileges. When the "interview" was over, he turned for a moment to his secretary, and said, "Lois, do you have any questions?" This quiet lady turned to me and asked, "What do you know about channel programming?" What kind of a question was THAT ??? Who IS this secretary??? Actually I was one of the few who DID know about the subject - Terry Kwizak, Norm Roberts, and Kevin Boyle did not.

I was hired to be Lois' understudy, and inherited the Weather Programme and NSLCTL aka "non-standard line control" (to connect Dorval to the ACNC computer in Toronto). Those couple of years studying with Lois these two programs she wrote were a true privilege for me. I have nothing but praises for that lady - she should have been working for a software development house in the States - yes she smoked, and ran a messy desk, and beat the guys in the hockey pool, but as a tutor and mentor she was the best - kind, gentle, patient, and absolutely brilliant - a couple of my best years at Air Canada... and I thought she was a secretary !!! Macho macho. Steve sent us a photo of himself while in Laos.
Terrance Ramsay - I recall taking Intro to 360 (?) with one Al Kurys and Al had to take a phone call to answer a skill testing question upon which he won a new car (perhaps a Pinto or a Maverick?)
Al Kurys replied - It was a Pinto! Thank God you and others were there, I was nervous and was the only one who got the question wrong. You guys all corrected me. In hindsight maybe it wasn't such a great thing, worse car I ever had.