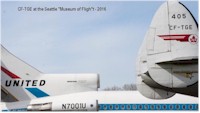 Thought you'd like to see the first pic in Seattle's Museum of Flight newsletter, that I get regularly. Proud to see the Super Connie's tail in the pic.
I had heard she was "closed" with lots of renovations required. I had the opportunity a couple of years ago to go and walk on board her, out on the apron.
Looks like they've moved aircraft around -
the President's Air Force One was near by when I was there!
Enjoy, Gretchen