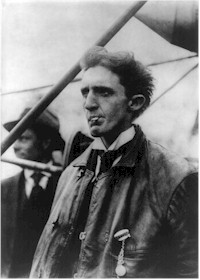 The first ever aeroplane flight in Western Canada took place before a crowd of 3,500 at Minoru Park racetrack in Richmond, B.C. on March 25th, 1910.
U.S. pilot Charles K. Hamilton, participating in an Easter weekend exhibition, flew from Minoru Park to New Westminster and back. On Easter Monday, the 28th, his biplane lost a mile-long race with a horse by 10 seconds.
Apparently, Mr. Hamilton was quite an interesting character. Wikipedia refers to him as being nicknamed the "crazy man of the air" and states that he was, in the words of the U.S. Centennial of Flight Commission, "known for his dangerous dives, spectacular crashes, extensive reconstructive surgeries, and ever present cigarette" and was "frequently drunk". He survived over 60 crashes
A good article about his exploits can be found at General Aviation News.