The Magic of Christmas, Air Canada Jazz style
For several years, Jazz employee teams have partnered with local charitable organizations to create lasting memories for very special children. At six locations across the country, wide-eyed participants embark on the trip of a lifetime to the 'North Pole' as they take to the sky in search of Santa Claus.
Following a 45 minute flight, our young guests, share lunch with Santa, sing songs and open their Christmas gift. For many of these children, the trip to the North Pole is their very first flight and the highlight of their holidays – a memory they will cherish for many years to come. Jazz employee teams from coast to coast have enthusiastically embraced organizing these special flights each year and are already looking towards 2017!
Jazz's "Searching for Santa" program, which is 100% employee-led, expanded its scope in 2016 to include events which just took place in Toronto (November 29), Halifax (November 30), Calgary (December 2), Quebec City (December 3), Vancouver (December 3), Saskatoon (December 10).
(source "The Daily" December 6th, 2016)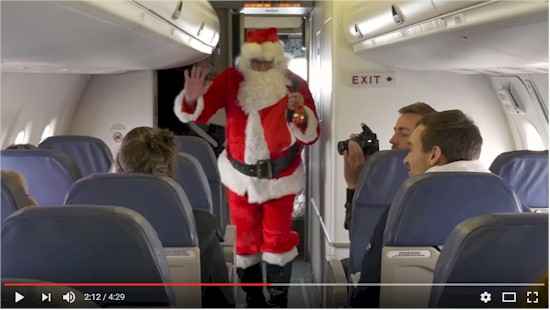 Click Here to view the YouTube video of "Searching for Santa" posted by AC Jazz.