Jean Elliot sent us this beautiful story.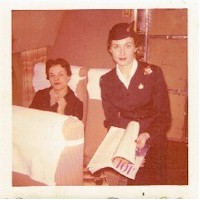 It was Christmas Day 1958 and my roommate and flying partner Cathy Graham (Lyons) and I, Jean Button (Elliot) had to fly to Sudbury, North Bay via Viscount. My Mom and Dad had driven from Ottawa to spend Christmas with us, but we had to work.
Travelling with us, as a passenger, was Helen Longfellow our other roommate, who was going home for the holiday.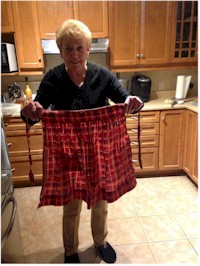 We were resigned but disappointed to be away from the festivities. When we arrived in Sudbury we were met at the ramp by Mrs. Clark, the Station Manager's wife.
She had gaily wrapped gifts for all the crew and stated that she wanted to brighten our day. Cathy and I received aprons and the front-end crew received playing cards. I have never forgotten her kindness and Cathy has kept the apron to this day.
One never knows when a random act of kindness will be a wonderful memory.
Pictures are of Cathy in uniform with Helen as passenger and Cathy today with her apron.