Found on the Flight International magazine issue February 26, 2019.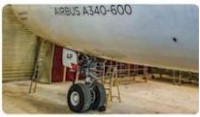 Name that plane.
The following advert was a tweet by the Virgin Group -

Did you know the avionics bay can be accessed by a hidden ladder in the nose wheel bay on a Boeing 747?

Finally, total aviation persons among us can, of course, tell immediately from this (since deleted) Virgin Group tweet that the aircraft in the picture is not actually a Boeing 747. There is one subtle clue. See if you can spot it? The ladder may be hiding.