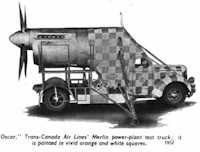 A Dorval oddity is "Oscar," the mobile test-stand built by T.C.A. for their Rolls-Royce Merlin engines which powered the Canadair North Star.
"Oscar" is a truck with full test instrumentation and radio for communication with the control tower. It is fitted with tie-down chains and hydraulically operated steadying feet.
The great virtue of this unit is that it can be driven to the far corners of the airport, where noise can bring no complaints, and it can always be headed into wind.
(Source flightglobal.co.uk/1952-1513)