Canada's first Air Mail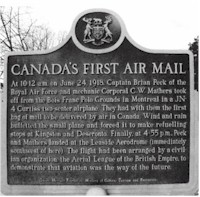 At 10:12 June 24, 1918 Captain Brian Peck of the Royal Air Force and mechanic Corporal C. W. Mathers took off from the Bois Fane Polo Grounds in Montreal in a JN-4 Curtiss two-seat airplane.
They had with them the first bag of mail to be delivered by air in Canada. Wind and rain buffeted the small plane and forced it to make refuelling stops at Kingston and Deseronto.
Finally. at 4:55 pm Peck and Mathers landed at the Leaside Aerodrome in Toronto. The flight had been arranged by a civilian organization, the Aerial League of the British Empire, to demonstrate that aviation was the way of the future.

(Source: via Larry Milberry/CANAV Books)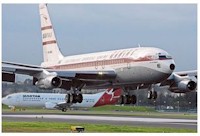 John Travolta's Boeing 707 is the gift that keeps on taking and he likely won't be making a farewell trip to Australia in the plane this November. Travolta, who has owned the aircraft since 1998, has donated it to Historical Aircraft Restoration Society in Albion Park, about 100 miles south of Sydney. The plan was for Travolta to use the 55-year-old airliner, a 138-B model, to get to a speaking tour in Australia by November 2.
As the date draws near, Australian media is now reporting the aircraft needs about $2 million in maintenance and repair before it makes the 10,000-mile trip over the Pacific. The aircraft, which is painted in Qantas livery and was flown in promotional events by Travolta on behalf of the airline in the early 2000's, is undergoing maintenance in Georgia and the work required, along with the paperwork it will generate, will likely go beyond November.
John Dennis, the former Qantas pilot heading up the project, told the Illawarra Mercury he can't guarantee the plane will be ready in November. He did, however, promise Travolta will be on the flight when it happens. "It's going to happen; that aircraft is going to arrive in Australia," he said. "And I can give you an assurance that when it does, John Travolta will be on it. I just can't give you a date.