Women move onto the ramp.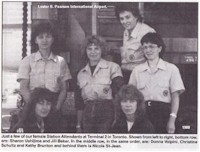 In Air Canada's cargo area 'A' at Lester B. Pearson International Airport the wide door of a DC-8 cargo plane swings open while Station Attendant Marg Lowe wheels the "Green Machine," an immense piece of custom machinery for moving cargo pallets, into position.
Meanwhile, ramp side, Station Attendant Donna Volpini pushes back a fully loaded 747 in a 77-ton paymover.
Inside, Station Attendant Kathy Leliever grabs a quick coffee after loading a heavy container flight in the domestic baggage room. These are just three of the many women who were making inroads on the Toronto ramp.
In the photo bottom row from the left: Sharon Ushijima and Jill Baker. In the middle row: Donna Volpini, Christine Schultz and Kathy Brunton and behind them is Nicole St-Jean.