Airplane Graveyard - Bangkok, Thailand.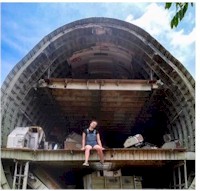 East and out of earshot of the roaring hustle and bustle of the giant Thai capital of Bangkok lies a spooky and fascinating tourist attraction, the Bangkok Airplane Graveyard. Here in the suburbs, since 2010 a variety of aircraft have been left to fall apart.
As can be imagined, the planes have been gutted by people hoping to use any of the valuable materials and sell them as scrap metal. As if the site alone wasn't interesting enough, it is also home to several families who have taken advantage of these rent-free open spaces and moved into them as apartments!