'Miss Piggy' - Manitoba, Canada.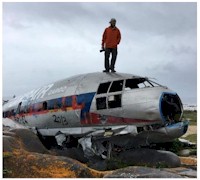 Far away on the frigid shores of Hudson Bay in Canada's northern Manitoba province lies the town of Churchill, renowned as the "Polar Bear Capital of the World."
It is here, just outside the bounds of the local airport in this incredibly remote corner of North America, that this Curtiss C-46 aircraft came to rest one morning in November 1979.
As the plane took off, one of its two engines had a mechanical failure, causing the plane to crash-land, adding its wreck to the tundra's landscape.
Thankfully, though three of the crew members were injured in the incident, everyone managed to walk away.
Since then, the plane has become an attraction of its own, lovingly dubbed "Miss Piggy."
(Source: Microsoft News, November 6. 2019 and Instagram)
Also see at the Manitoba Historical Society website