Ron Rhodes had this enquiry -
Perhaps you could publish the attached photograph from my collection of TCA memorabilia.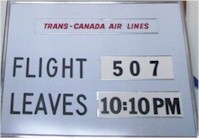 I would love to know if anyone has any idea where this TCA sign could have originated. I found it years ago in the basement, behind the furnace, of an estate sale here in Waterloo, Ontario!!
My idea is that it was located at the gate of a small Canadian airport, or perhaps at the check-in counter.
Can someone help??