Found in 'Horizons' magazine
Issue dated December 1997.
The Air Canada Flying Pirates hockey team of Vancouver traveled to Belfast. Northern Ireland to play in a two-game fundraising event.
The hockey game against the Castlereagh Select raised over $4,000 for the Malcolm Sargent Cancer Foundation.
The Air Canada team also visited the Cancer Ward of the Ulster Hospital and gave gifts to the sick children to help brighten their day.
Left to right, back row: Murphy Johnson, Jack Davidson, coach Claudio Feruga, Mike Bradley, Hugh Tait, Brian Yamanaka, Ziggy Zippel and Dann Ball.
Front row: Bruce Geortzen, Corey Williams, Dan Dubuk, Paul Newmal (United), and Ken Woods (Delta).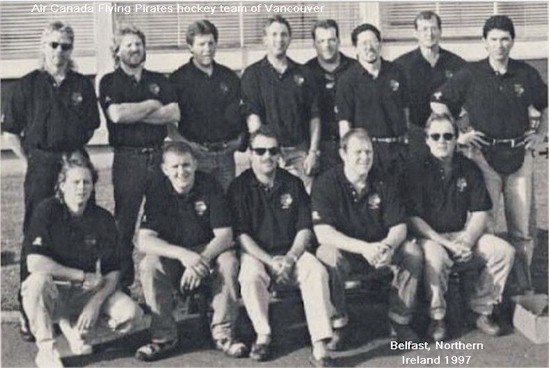 ---
Issue dated April 1998.
Air Canada celebrates 50 years of flight to Bermuda.
Staff, friends and associates of Air Canada in Bermuda celebrated this station's 50th anniversary in 1998. To mark this very special occasion, an afternoon tea was held in the main lobby of the Bermuda Aquarium and Zoo.
Pictured left to right: Customer Service Agents Karen Cabral, Tina Barnard, Floyd Smart, Matthew Ringer, Veronica DeSilva, Country Coordinator; Customer Service Agent Lynette Harris, Lamar Durrett, President and CEO, David Lambert, Customer Service Coordinator - Bermuda; Customer Service Agents Lucy Monkman, Carol Ramsay, Sally Walsh, Marc Rosenberg, Vice President, Sales & Product Distribution and Polly Ricketts, Customer Service Agent.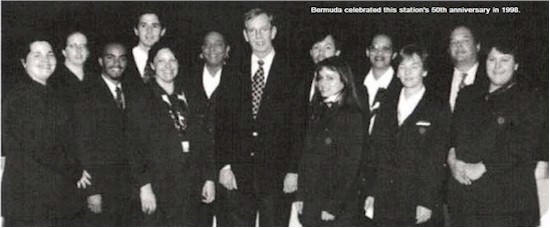 ---
Glasgow -
Pictured left to right. are: Ian Dawson, Cargo Sales Service Coordinator, who reached 25 years in February 1998; Lamar Durrett, President & CEO and Willie Kerr, Commissary Catering Coordinator who reached 30 years of service in 1997.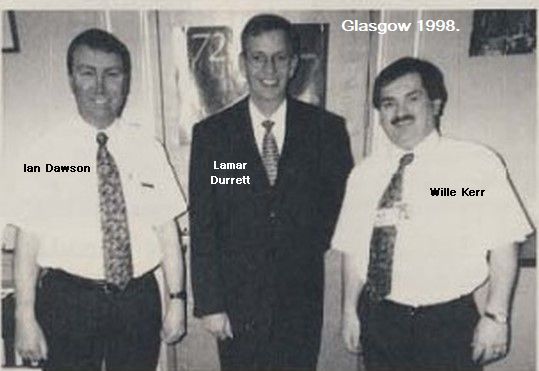 ---
Paris -
Pictured, left to right: Lise Marie Turpin, General Manager, Passenger Sales, France, Belgium, Spain; Laetitia Lesieur, Ticket Agent; Lamar Durrett, Geneviéve Brigout, Principal Coordinator and Roger Sarti, Ticket Agent.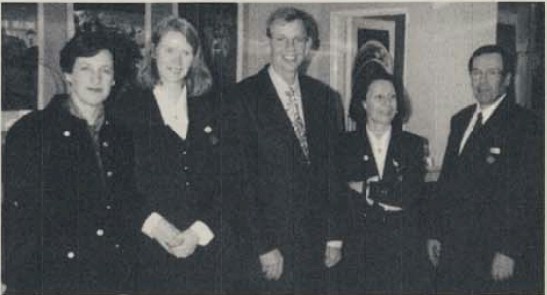 ---
Welcome to our new employees in Tel Aviv.
Effective with the 1998 summer schedule, we are introducing a new Montreal - Tel Aviv link.
Pictured here are some of the employees in Tel Aviv.
Top row, left to right: Neoni Stein, Ticketing; Sara Dar, Sales; Eilat Bahari and Ilana Mann, Reservations; Victoria Shuela, Airport Coordinator.
Lower row, left to right: Anita Asman, Accounts; Ester Kastiel, Secretary and Miki Dorn, Marketing; Sigal Bonano and Tzafi Horowitz, Reservations; Victoria Shuela, Airport Coordinator and Ruth Ben-Tzur, General Manager, Sales & Operations.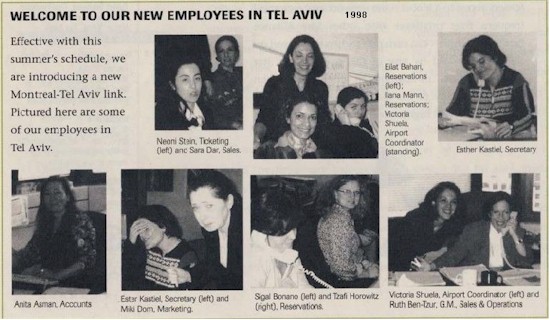 ---
Issue dated May 1998.
Six airplanes in one.
Adapted from the April 1998 issue of enRoute magazine.

Putting one logo onto an airplane is difficult enough, but six logos?
Workers at Air Canada painted an aircraft with the colours of all the Star Alliance carriers. Henry Freiss, the Manager responsible for this unique project, says that the most difficult part of the job was making sure the six logos looked right together, while adhering to the strict rules about how each emblem was presented.
For example, a white airplane is a white airplane, right? Wrong. Though five of the six airlines have a white fuselage, each uses a different shade of white.
After the aircraft was painted in Air Canada white, the logos were applied with decals. According to Daniel Lortie, Manager - Paint Program, in Toronto, the job took 10 days and 2,600 man-hours to complete. About 600 litres of paint was used.
The Air Canada employees responsible for painting the A340-300 aircraft with the colours of all the Star Alliance carriers include:
Front row, left to right: Harry Kalenbach, Deny Risi, Richard Parker, Ayoob Motala, Carran Singh, Paul Brennan and Dany Shea.
Back row: Rick Farrell, Ed Ruttan, Barry Parsons, Val Siles, Mike Bird, Donald Yusuf, Brian Butt and Ted McGruthers.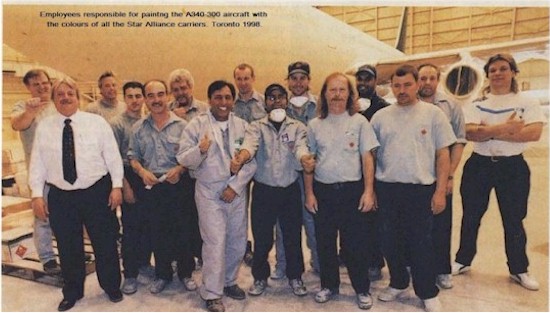 ---
Fin #904 Registration C-FYLD in flight after the paint job.

Photo by Kambui @ commons.wikimedia.org/wiki/File