Larry Milberry sends this -
Welcome to CANAV's Fall/Winter 2021-22 booklist check the web site www.canavbooks.wordpress.com.

Have a Look! CANAV's Fall/Winter 2021-22 List — It's a Blockbuster Season.

Also … Norseman Update, CAHS History, Bill Wheeler, Neil A. Macdougall, Austin Airways, Fox Moth Discoveries, Les Corness Treasures, James Bay Airlift, Canadair CL-260 Re-Discovered, John Ciesla's fantastic Transportation Files, Ghost Canso/Bush Caddy Update

As usual it includes all the standard CANAV classics, with some excellent deals, especially for Air Transport in Canada at a give-away, all-in price. There are numerous new offerings, all enticing for the serious fan. It's hard to say which is the real standout of the bunch, but I'm tending (for one) towards Chris Hadfield's The Apollo Murders. I've just started to read it and I'm reminded right away (as far as writing style and enticing content go) of Ernie Gann's Fate is the Hunter.

That's about as grand a compliment as I could give any aviation/space author. I think you need this book, but so do you need a box load of others from this fall's list. Take a look, you'll see what I mean … stock up for winter.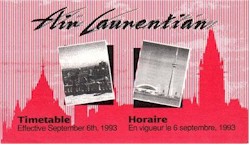 Here we have the timetable from Air Laurentian issued September 6, 1993 from the collection of David Zekria.
Source: timetableimages.com/ttimages/9v.htm
The history of the Laurentian Air Services can be found in the book:
For the Love of Flying: The Story of Laurentian Air Services
by Danielle Metcalfe-Chenail
Available at:
www.amazon.ca/Love-Flying-Story-Laurentian-Services
Further to our article on Cascadia Air in NetLetter #1438 -

Small Canadian commuter start up Cascadia Air has announced non-stop scheduled flights between Vancouver and Penticton as it expands into the British Columbia interior, with plans to introduce more service routes in the next year.

Flights to Vancouver were launched on August 30, 2021. The carrier will offer direct flights on the route throughout the week and weekends on a limited scheduled basis using Piper (twin piston) PA31-350's until such time as consumer demand warrants adding more schedules and larger aircraft, the company said in a statement. According to the Canadian aircraft register, the company owns four more Piper Aircraft; three PA 31-350s and one PA 32-260. To accommodate social distancing during the pandemic, its aircraft are currently spaced for a maximum of six passengers.
Source: ch-aviation.com/portal/news
New budget airline says planes will fly from Waterloo Region to Montreal, Ottawa next year.

Pivot Airlines says tickets are now on sale for travel from Waterloo Region to Montreal and Ottawa as the company will finally have planes in the air early next year.

It says service between Waterloo Region and Ottawa will begin on February 19, 2022 while planes will start travelling to Montreal from Waterloo Region on March 21, 2022.
Source: flypivot.com