Nancy Greene, from Dartmouth, N.S. was involved with the TCA Alumini in the past, and has sent us a copy of the letter sent to members inviting them to the 25th reunion held at the Tradewinds Resort, in St. Pete Beach in Florida on November 25 - 29th, 1996. Also Nancy included a letter sent to Prime Minister Jean Chrétien, and his response.
Here is a transcript of the invitation –
"This is our 25th reunion. Some of you have been with us since the beginning. Others are joining us for the first time. "Ciad Mile Failte'' (100,000 welcomes) to each of you.
Because this is our 25th, we would like to have an extra special celebration. At our business meeting last year, 97% of the attendees approved a $5.00 (one time) charge to ensure an "extra special'' good time.
The luncheon cruise is again being offered. The cruise will be on the M V Lady Anderson. A minimum of 25 people need to apply. If less, the cruise will be cancelled and money refunded.
By popular request, we are also offering a Casino cruise on the Majestic Empress. The cost of $15.00 includes gourmet buffet, casino, live music, dancing, games, etc. as well as transportation to and from Tradewinds (minimum 15 people need apply).
Due to the fluctuation of the Canadian/US dollar, we request that all reunion payments be in US funds, with the exception of the $8.00 membership fee.
Appeal for new members: There are many recently retired fellow employees who now qualify for membership in the TCA Alumini. Should you know of anyone who qualities for membership, please let us know so that we can contact them, or have them contact us directly.
Also, at the general meeting, it was voted to allow members to bring friends with them to the reunion. This will be left to you own discretion. There will be a $3.00 guest charge per person. They are welcome to attend all functions at the same cost as embers with the exception of the breakfast which is free for members only. If, however, they wish to attend, there will be an additional charge of US$6.00 p.p.
Your executive:
President: Courtney Greene
Secretary/Treasurer: Nancy Greene
Vice President: Morley Ryder
Social Director: Mary Ryder
Past President: Frank Gormley
Plan now to attend. Come on down and enjoy these few days in the Florida sun and renew old friendships with members of the TCA Family.
(signed)
Courtney Greene, President"
Following is a transcipt of the letter from Prime Minister Jean Chrétien
It is with great pleasure that I extend my warmest greetings to everyone attending the 25th reunion of TCA Alumni, taking place in Florida.
This gathering will provide you with the ideal forum in which to exchange views and discuss issues of mutual concern with fellow members. You will also have the opportunity to review past achievements and set new objectives for the future. I am sure that you will find your participation in this reunion both enjoyable and rewarding. Please accept my best wishes for a memorable session of activities.
(signed)
Ottawa, 1996
(If anyone has any photos from their alumini days to share with us, please do so - eds)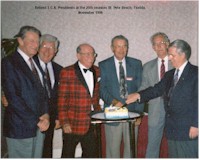 The photo includes four ex-Alumini presidents. Here are the names as remembered by Nancy -
Frank Gormley, Jean Gheslin, ?, Courtney Greene and Claude Taylor.
(Can anyone can supply the missing names? - eds)