Air Canada has assembled information on their baggage policies, as well as details on their products and services. It is their hope that you'll use this information to plan and personalize your trip with them, and create your ultimate travel experience.
For complete baggage information see the Baggage Guide by following this link or by clicking on the image below. You can then use the links on that page to visit various other information more related to what information you are attempting to retreive such as the baggage fee calculator at www.aircanada.com/en/travelinfo/airport/baggage/checked.html and entering your flight information.
Another source for baggage information can be retrieved from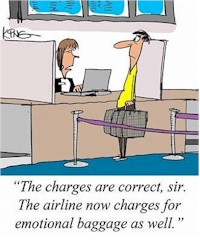 the web site at: www.seatguru.com which provides a more simplified version of Air Canada's baggage policies see: www.seatguru.com/airlines/Air_Canada/baggage.php
Other Airline info can also be retrieved from www.seatguru.com/browseairlines/browseairlines.php
(Note: John Shea sent us the timely related cartoon on the right via his niece Karen Shea Gleason.)
---
Airline Club of Thailand Presents Japan 02 - 08 - April 2016.
Journey to the Land of the Rising Sun, to breathtaking scenery from the cities to the country side. Enjoy a feast of attractions with the seven day tour.
Prices are per person :
Double /TWIN Sharing USD 2,700 (15pax) Single supplement USD 380
Extra night in Tokyo USD 160 per day approx.
In Osaka USD 140 per day approx.
Price confirmed based on :
6 nights accommodation as quoted or similar.
Meals include 6 breakfasts 5 lunches, 6 dinners.
Long distance coach and Shinkansen (Bullet Train)
Accident insurance liability withinTHB 2,000,000 equivalent to approx USD 60,000.
Tours as per itinerary.
English speaking guide.
In case of currency fluctuations of more than 3% we reserve the right to adjust the tour price.
Excluded-
WACA fee of USD 20
Tips for all local services (driver, local guide, porters) approx USD 6 per day per person
Deadline to register - March 1st, 2016.
Interline Clube de Portugal will host the 1st WACA FUN GAMES.
19th - 23rd Apil 2016 at Vilamoura - Algarve, Portugal.
Cost eur370.00 Deadline March 15th 2016
Check www.waca.org events for full details.
---
Heathrow celebrates its 70th anniversary in 2016.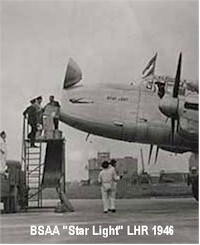 December 31, 2015 marked 70 years since Heathrow officially became a commercial airport. Over the course of 2016, Heathrow will be celebrating a number of key moments with colleagues, passengers and the local community to mark this significant anniversary. May 31 is the official date of Heathrow's birthday – marking 70 years since the then newly named London Airport officially opened for civilian aviation. Heathrow was originally built for military purposes during the Second World War and was handed over by the Air Ministry to the Minister of Civil Aviation on January 1, 1946.
The first commercial flight to depart was a British South American Airlines Lancastrian 'Star Light' which flew to Buenos Aires on New Year's Day 1946, with the then London Airport opening to passengers the following May 31st.
Since its opening, the UK's only hub airport has grown significantly to handle over 73 million passengers annually.
A brief History of Heathrow
1944: Construction of London Airport's runways begins
1946: London Airport officially opens as a commercial airport
1955: Her Majesty the Queen opens the Central Terminal Area and Control Tower
1957: The first non-stop flight to California sets a new record for distance and time
1964: The Beatles are mobbed at London Airport
1966: The British Airports Authority is created. London Airport is renamed 'Heathrow'
1969: Terminal 1 is opened and existing buildings renamed Terminals 2 and 3
1976: Concorde makes its first passenger flight
1977: The London Underground link is opened
1986: His Royal Highness Prince Charles and Princess Diana inaugurate Terminal 4
1987: The British Airports Authority is privatised as BAA plc
1997: The Terminal 5 public planning inquiry ends – the longest in UK history
1998: The Heathrow Express rail service is launched
2003: Three Concorde's make their final touchdown at Heathrow
2006: The Airbus A380 makes its first UK landing into a newly built Pier 6 at Terminal 3
2007: A new air traffic control tower is operational – the tallest in the UK
2008: Terminal 5 is officially opened by Her Majesty The Queen in March; The first commercial A380 flight arrives at Heathrow
2009: Terminal 4 underwent a major refurbishment to improve facilities
2010: Demolition work started on Terminal 2 to make way for its £1 billion replacement which opens on 4 June 2014
2014: The brand new Terminal 2: The Queen's Terminal opened for business on 4 June. The first airline to move in was United Airlines
2015: Icelandair moved in to Terminal 2 on 25 March
2015: Terminal 1 closed