1949 July 13th - a Canadair 4 inaugurated service from Vancouver for a two-day flight to Sydney, including an overnight stop in Honolulu.
1963 – June -Timetable from PWA announcing the first service in Canada between Edmonton and Calgary. (pictured)
---
Gleaned from the "Info Canadi>n" magazine - Issued March/April 1996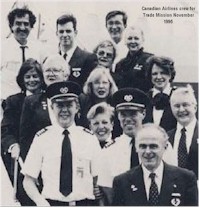 In November 1995, Canadian Airlines was chosen to provide a B-767 charter with crew for the business trade delegation to accompany the Prime Minister on a 14 day, 4 country trade mission to Asia. More than 22,000 miles over eight flight legs, more than 2,000 meals were served by the three inflight crews and thousands of bottles of water were consumed.
(No mention of any alcohol! - eds)
Trade mission crew from left to right:
Antonios Yiouvris, Maintenance Engineer, Rome; Dann Cantley, OSM, Montreal; Jim Green, Catering Supervisor, Vancouver; Mary Ann Gardencius, Flight Attendant, Edmonton; flight attendants Gail Veermans, Calgary; Micheline Shirriff, Toronto; Donna Kyliuk, Winnipeg; Maxine Elson, Halifax; Diane St. Jean, Montreal; Dan Ellerbeck, Captain, Vancouver; Madelaine Beaulieu, Flight Attendant, Vancouver; Bernie Duperton, Captain, Vancouver; Mike Sawyers, CSD, Vancouver; Fulvio Pasquale, Flight Attendant, Vancouver and Ross Currie, First Officer, Vancouver.
(The article provides 15 names but only pictures 14 people - eds)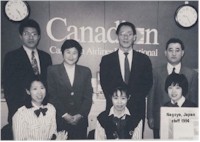 Taking care of business in Nagoya, Japan are, from left to right front row:
Customer Service Agents Kumiko Murata, Michika Oku and Chiemu Ishizaki.
Back row: Seiichi Tanaka, Cargo Sales Service Rep; Yasuko Okada, Sales and Service Rep; Hiro Isuzaki, Manager Western Japan; and Natsuo Sakakibara, Sales and Service Rep.
---
New Airport Check-in system (ACS)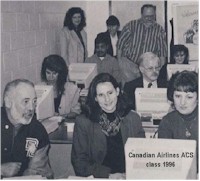 All smiles and eager to learn ACS, this group of agents travelled to Vancouver's training Department from far and wide.
Seating in front from the left:
Dave Griffiths, YXV; Louise Grimmen, LHR; Gladys Hrabel, YXD.
Middle row: Len Smith, YQQ; Len Steg, YVR; Linda Collard, HNL.
Back row: Penny Reid, (Airport Training), Kathleen Thomas, Airport Training); Jack Plain, YVR Customer Service Automation; Franca Bentrovato, YAM and Adel Garibaldi, YYZ.