Ken Starnes has sent us a group of photos of the Aircraft Maintenance Retirement Party held at the Royal St. Lawrence Yacht Club in Dorval in 1983 which appeared in NetLetter nr 1338, here are some more –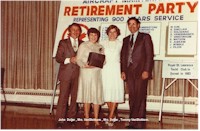 John Doljar , Mrs. VanStokkom , Mrs. Doljar , Tommy VanStokkom Foreman Aircraft Maintenance . (Retiree)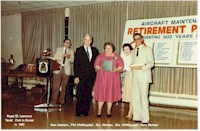 Sam Gatelaro , Phil Whittingstall , Mrs. Marleau , Mrs. Whittingstall , Dave Marleau General Foreman Finishing Shop ( Retiree )
Sam Gatelaro, Mrs B. Sim, Bill Sim Finishing Foreman, Merle Wolfe Secretary
---
Ian and Agnes Jackson has sent us this photo -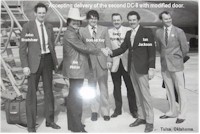 DC8 instructor, Captain Ian Jackson shown here shaking hands with Douglas Rep, Jim Pintas, while taking delivery of our second DC8 with modified door in Tulsa, Oklahoma.
On the left, John Bradshaw, Toronto Supervisor; Jim Pintas; Don McKay, AC DC 8 engineer; Gerry Spraklin, Ian Jackson, and (an unknown) AC Maintenance Representative, Tulsa.
---
Jack Stephens has sent us this e-mail he received from Don Heron regarding Don's father George Heron and he also forwarded us some photos which Don had provided..
George K Heron was born in Toronto in 1910 and became very proficient in ham radio as a hobby. He hired on with Trans Canada Air Lines in Toronto in 1938 and was immediately assigned to early familiarization flights to ensure the radios worked as intended and to improve the radio systems. George was then transferred to the TCA maintenance base in Winnipeg. After WW 2 broke out, he was transferred with his new wife, Margaret, to Montreal to support radio maintenance for TCA's role in the Return Ferry Service. After the war, George and his family was transferred back to Winnipeg where he spent the balance of his career headquartered at the TCA maintenance base in the field of radio and electronics.
Here is a series of scans and a word document with captions of photos in one George's photo albums from the era.
Don Heron, Calgary.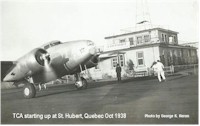 TCA operations at Montreal were from St. Hubert airport in Quebec. Here we have this photo taken in October 1938.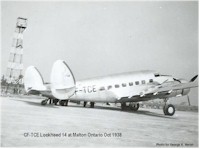 With his move to Toronto, George took these photos of CF-TCE getting prepared for an Eastern Canada familiarization tour in October 1938.
A photo of CF-TCE with Don's grandfather Orlando Heron and the hired person who helped Orlando's wife.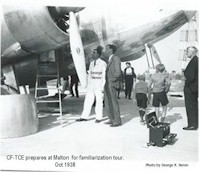 One photo has CF-TCE with George Heron, in white coveralls, who was the radio specialist on the tour.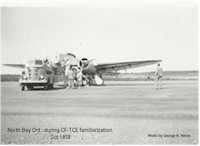 Some of the stops on the tour included North Bay, Ontario
George Heron helping with refuelling at Armstrong, Ontario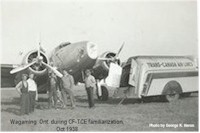 Wagaming Ontario, which was listed on the original TCA timetable as "Service Stop when Necessary", was also on the tour.
(George Heron's next move was to Winnipeg, and we have some of his photos which will be in NetLetter nr 1340 – eds).