Karin Filcher shares her personal memories of the DC-10 fleet.
Thanks as always for the great NetLetter. I am most interested in the stories of the DC-10's.
My husband Bob flew the DC-10 for many years and one of his assignments was to deliver a DC-10 to Pakistan Airlines. It was a memorable trip for him, but not for happy reasons - they left the hotel for the flight home having handed off the aircraft to Pakistan Airlines, but on the way to the airport the road was blocked with crowds of people agitating due to the impending arrival of Benazir Bhutto from exile, I think. I have checked dates and it would appear to have been around 1989.
The taxi got them as close to the airport as possible and the driver then said he was going no further and they would have have to get out and make it on their own. So Bob and I believe two other pilots (at least) got out and pressed towards the aircraft which was sitting on the tarmac - even having to break through or over a perimeter fence I believe.
They did finally make it to the safety of the aircraft which departed and flew them I think to Amsterdam? However the ordeal was not over for Bob who became very ill on the flight and ended up having to stay in their European destination for an extra few days under a doctor's care.
Not long after that he gave up being a DC-10 pilot and moved on to the B747!!
This is all rather hazy, and the dates don't seem to quite add up, so I was wondering if there is any way of tracking down exactly what happened!!!
You always manage to find such interesting stories!!
Thanks
Karin Fulcher
---
Anita Leung, retired Sales Manager in Hong Kong asked-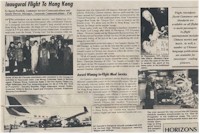 I am trying to go back in history. I would like to know the exact date that Air Canada commenced flying to Hong Kong from Vancouver. I vaguely remember that AC started with only 4 flights a week but I forgot when. Will try to search from AC website but there is no mention on the exact date. It was around 199????
This information means a lot to me. I worked in AC HK office since Sep. 23, 1974, my first job after graduation from Hawaii. Became Sales Manager for HK when it was off line and was promoted to Manager, HK and SE Asia when AC became online in 1995. Yet, I forgot this very important date of my life. Thanks to you, I now can complete my own AC puzzle. Of course now, I am happily retired and use my retiree tickets often to explore various parts of Canada.
Best regards,
Anita Leung
Terry found the article on the inaugural flight published in the February 1996 issue of Horizons. It identifies Flight 837 on December 20, 1995 as being the historic first flight. The words "Maple Leaf Airlines" were emblazoned across both sides of the fuselage in Chinese characters. - Wayne
---
Brian Walsh sends some up to date information regarding the UP Express mentioned in NetLetter nr 1345.
FYI - The UP Express also has a senior fare of $6 One Way
Cheers... Brian Walsh, Victoria B.C.
---
David Edward has sent us this story from Russ Brown who is a retired CP-Canadian captain now living in B.C.'s Lower Mainland
When I was based in Toronto we at one time ferried (empty flight) a stretch 63 series DC-8 from Toronto to Vancouver at night to position for the Orient flight.
It was decided to fly it via Calgary as a regular passenger flight and offer a super low fare, no food, minimum service and even a charge for drinks. Being a junior captain on base I was scheduled for these late night flights all summer! The flight was very popular, especially with split families in Toronto, Calgary and Vancouver.
We had many UMs (Unaccompanied Minors) on every flight. Most family groups, and some singles as well, boarded with picnic baskets for midnight. This made for a happy flight except for most of the UMs. Single parents for some reason seldom sent them with food. What is it with that, anger maybe?
I found that the youngsters liked to visit with us on the flight deck and I would sit one in the jump seat and give him the small bag of crew cookies to share with all of the little visitors, of course the cookies quickly disappeared. The Toronto catering manager was a friend and I ordered "more cookies" and on the next flight same result, cookies gone! Again, I ordered with emphasis, more cookies! Once airborne the purser came to the flight deck and asked," where would you like the cookies Skipper?" I said," here on the jump seat".
The purser struggled through the door dragging the biggest, more than four foot square, box of the best Peek Frean Cookies you will ever see! From that day to occasionally even now............."CAPTAIN COOKIE"
After landing in Calgary we had to wait several hours on the ground due to a noise curfew in Vancouver. The agents really disliked having to care for the UMs so I would take them all, along with my pilot crew, to the staff cafeteria. Full breakfast for staff & crew $1 and the UMs were appointed honorary crew! The cafeteria staff even took to having a table ready, me at the head, my F/O at the foot, my S/O and a stewardess or two mixed in at the sides and they served us restaurant style. Wait, it gets better.
On the third flight we landed with a small fuel leak from an engine pylon. After the breakfast I came to the ramp to see how maintenance was progressing with the repair and to apologize to the Airport Fire Captain who had to get out of bed and stand by while the repair was underway and then to clean up any spilled fuel. The Captain said that his crew was bored most nights and welcomed the diversion and he asked me about the youngsters that he had noticed with my crew. I told him about the UMs and he said to bring them to the ramp. In very short order the fire truck sirens and lights were going and water was arcing in the air from the truck cannons. We all had a great deal of fun, the UMs were over the moon, and the Captain insisted that I call every time I landed this flight through the Summer for a repeat performance. I did! For me that turned an undesirable junior bid flight into my first choice!
---
In NetLetter nr 1343 we had this photo with a request for anyone to identify the other two people.
We received this from Ted Beaudoin -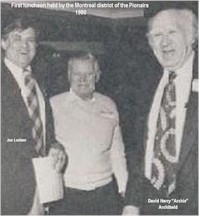 Hi again Terry - I needed to see if we can get full identity of three chaps in a photo - with the help of Val Frost, Ottawa ... seems that the gent with the white "side burns" could be Val's father ... Joe Lorimer
She posted the following on Facebook today (Tue-May 31,2016) (Perhaps someone would care to identify the unknown people - eds)
Here is her posting:
The recent issue of the NetLetter for all TCA/AirCanada employees and retirees, has just featured a photo of my beloved dad, David Harry "Archie" Archibald - Dorval Base, (Montreal) Quebec, Canada.
Dad started at TCA (Trans-Canada Airlines when they first started at Dorval Base, and not soon after RAF Ferry Command (of Bomber Command) moved in
and he then became a Bomber Mechanic for the RAF FC from 1939 - 1945. He always wore long, thick white sideburns, and ended up being referred to as Ben, or "Pa Cartwright" - from 'Bonanza' . My beloved dad.... and his fave Lockheed 10A Electra, and the Lancaster Bomber.
Val Frost.
John Rodger sent us this comment –
In your last Netletter the photo about the first Pionair event in YUL. The photo with Joe Lorimer the fellow on the right is Archie Archibald who worked in maintenance. Before he came to TCA he was with The Ferry Command out of YUL during the war..
Cheers John - Dorval Base, (Montreal) Quebec, Canada.
---
In NetLetter nr 1344, Terry's comment in his column regarding airline names on the belly of its aircraft has garnered some responses -
Mike Stirrup sends this memory -
Thanks for bringing back some memories Terry. I too used to sneak under the fence at Heathrow with other lads from Bishopshalt Grammar to spot a/c. We had small books with worldwide registration numbers in them and would religiously rule out each one as we saw it. In retrospect no boy would ever think of cheating and marking off an a/c they hadn't seen. Sad that kids couldn't get past airport security today! You likely did the steam trains as well. Remember the Castle class!
and Mae Wilson adds this -
Regarding painting their underbellies Qatar also has their name on theirs. I flew Qatar Airways to/from Qatar 4 years ago to visit my son who worked for them. Often see them flying into YUL around 1500 hrs daily.
Really enjoy reading the Netletter. I worked with Nordair 1974 to 1980ish when we became part of the 'new' Canadi>n Airlines. Retired from Canadi>n in 1990.