YVR Community Chill Out Day.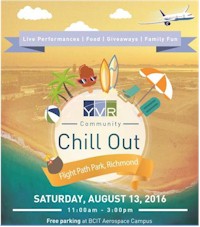 Date: Saturday, August 13, 2016
Time: 11:00am – 3:00pm
Location: Larry Berg Flight Path Park, Russ Baker Way, Richmond, BC V7B 1C4
Parking: Free parking available at the BCIT Aerospace Campus.
Free shuttle service will run regularly from BCIT and Templeton Canada Line Station to Flight Path Park
---
We have received this request for help from Robert Pelley -
Hello!
I have, for a number of years, been doing research on the history of Gander Airport. I have recently been asked a question for which I do not have the answer. I believe it may have recently originated with the Canada Aviation and Space Museum. The question from the North Atlantic Aviation Museum in Gander was sent to me by another person involved in the history of Gander.
The question was very simple :
"Have you ever heard of a trans-Canadian flight between St. John's and Victoria made around 1974 by Wayne Tuck and Craig Loweys?
Given your very large aviation-oriented membership, I was wondering if there was any way they could be asked to see if anyone has any information on this subject. Any help you could give would be extremely appreciated!
Robert Pelley can be contacted at This email address is being protected from spambots. You need JavaScript enabled to view it.
or Click Here for bobsganderhistory.com