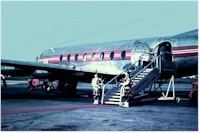 Brian Burrage has sent us this photo requesting help in identifying the location, date and event.
Brian is co-founder, historian and photo archivist of the web site www.vickersviscount.net and can be contacted at This email address is being protected from spambots. You need JavaScript enabled to view it.
Michael Leduc sent this message and photo.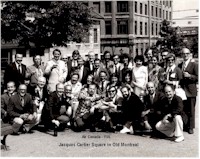 A friend, ex-AC, sent me the attached photo from his mother's (Chris Crinkley) effects and wondered who the people are. I recognize some of the faces but names have escaped me.
We would appreciate if it might be included in the NetLetter with the hope that we may find out who the characters are. The picture was taken at Jacques Cartier Square in Old Montreal. I suspect the photo was taken in the late sixties or early seventies, based on the attire of those in the picture.
Jack Stephens has passed us some photos he received of the first Vickers Viscount delivered to TCA (Air Canada) as CF-TGI which presently resides in the Pima Air and Space Museum in Tucson, US.
The message to Jack was -
Just visited the Pima Air and Space Museum in Tucson on June 1st, 2016. N22SN is still in residence but starting to look very shabby. Poor paintwork, flat tyres etc. I enclose some photos taken on a staggeringly hot Arizona day (46C) !!!!
Best regards, Andrew Houghton, Retired BA Captain (Viscount co-pilot) and Brooklands volunteer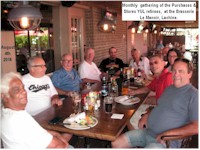 Frank Pedder has sent us this photo of those gathered at the Purchases & Stores retirees, YUL, monthly coffee gathering held on August 4th, 2016 at the Brasserie Le Manoir, Lachine.

Thanks to all those who came, pictured here, from the left: Julian Ireland, John Gauthier, Marcel Dionne, Frank Pedder, Bob Gagnon, Joe Nagy, Frank Dominick, Lucy Chabot, Leon Kolibaiev and Denis Leduc.