Hugh MacCallum has sent us this appeal -
I am involved in a project that will see a PBY Catalina "Canso" be flown May through July 31, 2018 across southern Canada, then across northern Canada.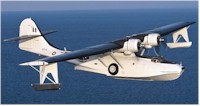 This is intended to honour those flight & ground crew that contributed their skills toward the Allied Effort in WWII; and later flew many of the same aircraft fighting forest fires or hauling construction materials to build the DEW Line or general freight to Canada's north. My role is planning the landings along the route, linking up with other operational WWII aircraft to participate in mini-airshows or just flying comraderie.
To this date we know that Canso's flew out of Edmonton Municipal Airport in 1950's with Pacific Western Airlines, from Winnipeg with Transair and Ontario Central Airways from Red Lake, Ontario in the 1960's, Austin Airways at Timmins, Ontario and EPA had one in Newfoundland for forest fires. They were used on BC coast too!
We are naming this "The Perfect Adventure", and ask readers to possibly recall their war experience and later who they worked for, where they might have flown, and any interesting exploits or memories from so long ago?
Click Here for the project website. Respondents can contact me: Hugh MacCallum via e-mail This email address is being protected from spambots. You need JavaScript enabled to view it.