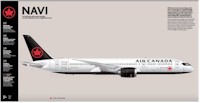 Air Canada NAVI was published February 22, 2017 and launched March 2017 and placed in the aircraft cabin, with the title "Welcome aboard".
The new magazine, a new monthly title from Air Canada, has been launched to give a closer look at the organization. At left is a photo of the March cover page.
This is a photo of the employees in the publication.

Front row from the left: Nathalie Guite, Paul Lebel, Marianne Foulds, Lynn Gobeil, Ines Brosig, Melanie Vincelli, Marie-Claire Desrochers, Sabina Haddad and Nairy Chamelian.
Middle row from the left: Michel St-Pierre, Jean Phillippe Forget, Anthony Delatolla, Helen Kotsovos, Saifuddin Husna, Lise Albert and Nadia Lefebvre.
Back row from the left: Matthew Lee, Jean Francois Bisson-Ross, Patti White, Daniel Belanger, Leslie-Anne Vezina, Charles Cormier and Tim Fisher.
---

From the "Horizons" magazine - (June 1982)
Issue dated June 1982.
June-1, 1982 - Passenger operations at New York's JFK international airport were moved from the British Airways complex to the United Airlines terminal.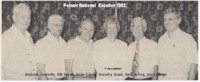 The fifth National Pionairs Annual General Meeting was held at the Anaheim Marriott in May for 550 attendees.
The newly elected Pionairs' executive shown here from the left: Hudson Connolly, Bill Spratt, Ozzie Candy, Dorothy Grant, George Fox and Joe Lorimer.
---
Scheduled air service to Sydney, Nova Scotia began May 1, 1942 when a TCA 10-passenger Lockheed 10A landed at the city's airport enroute from Moncton to Gander and St. John's.
The aircraft was under the control of Captains Burton J. Treris and Walt Fowler. The stewardess was Dorothy Reid, R.N. a native of North Sydney.
---
Issue dated July 1982.
On July 3, 1962, in Montreal, TCA/Air Canada moved its headquarters from the Aviation Building across the street to the newly opened Place Ville Marie aka PVM. It not only became Montreal's tallest structure at the time, but also heralded, with its underground complex, an entirely new era of modern urban living, to be copied throughout the world.
Historically, in 1937, TCA was created by an Act of Parliament and the seaplane "Caledonia" from Imperial Airways arrived from Southampton and landed at Boucherville near Montreal, heralding a new era in trans-Atlantic travelling to be followed by these milestones:
1941 - the official opening of a new international airport at Dorval, near Montreal.
1943 - TCA begins flying to the United Kingdom.
1945 - TCA buys its first DC-3.
1947 - TCA begins service to Ireland.
1952 - TCA service to Germany begins.
1958 - service by TCA to Antigua, Switzerland and Belgium.
---
Wings of Life

In 1981, two members of the Montreal Flying Club suggested circling the globe in a light plane to raise money for cancer research. Before long a group of enthusiasts supported the idea.
Romi Singn, a DC-8 First Officer for Air Canada was coordinator of the project which was an attempt for a world record. A flight operations committee was formed under the leadership of Timothy Smith, Senior Photo Lithographer who charted the flight course to coincide with well-travelled shipping routes and to avoid bad weather, political instability and hijackers.
On August 1, 1982, Don Muir of Sioux Lookout, Ont, son of Fraser Muir, Economic Analyst, Marketing, Montreal of Air Canada and Andre Daemen took off from Mirabel Airport in a Cessna 210.
The route was from Montreal to St. John's, NF, Shannon, Ireland, Crete, Cairo, India, island hop across the Pacific to Honolulu, then San Francisco to Montreal.
Among the employees involved were: Jean Marc Belanger, Vincent Calonne, Gerry Cline, Claude LaPierre, Neil Livingstone, Yves Picard, Norm Reid, Art Sroka, Luigi Corso, Bob Van Den Hoef, George Hewitt, Bill Alexander, John Topiniski, Vince Robinson, Maurice Gwin, Louis Bourque, Rick Dion, Adrien Vallieres, Russ Looker, Chris Moon, Hans Asam, Juan Melwani, Beverley Bracken, Barb Bonham, Steve Bulger, Wally Pacholka, Loretta Alexander, Louyse Gierden and Fraser Muir.
(There is an organization named "Wings for Life" which does not appear to be related – eds)
---
Ron and his "Trekkies" hike pastoral England
Ron Barber, leading his eighth annual "trek", was joined by a gang of seven others from the Toronto Finance and Reservations decided to tackle the Lake District which seemed, from the report by John Cavill, to be a hike which turned into a "pub crawl separated by lake, crag and fell", according to the diary of Patrick Sullivan. Named cultural establishments visited were "Crown & Hen", " White Lion", "Golden Rule", "The Yewdale", the "Bull" and "Travellers Rest".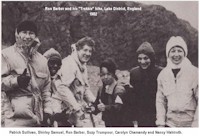 We have this photo of the "Trekkies" taken by Mark Groskaufmanis who was on his seventh such "Trek".
From the left: Patrick Sullivan, Shirley Samuel, Ron Barber, Suzy Trumpour, Carolyn Chamandy and Nancy Wahlroth.
Missing from the action and recovering from the previous day's hike was Lois Nelson.
(Probably taking in the "Travellers Rest" liquid opportunities to do just that - eds).
---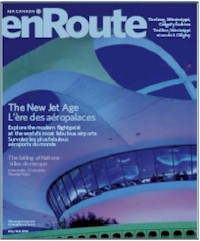 Found in the "New Horizons" magazine issue dated May 2005. (with permission)
enRoute magazine got a facelift effective with the May issue to reflect Air Canada's new brand image.
---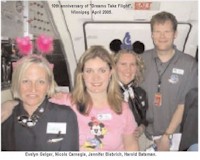 (April 2005) - The 10th anniversary of "Dreams Take Flight" departed Winnipeg in early April with a flight to Walt Disney World in Florida. Two aircraft carried the largest group of children - 153 - in the program's Winnipeg history up to this date.
Our photo has some of the volunteer employees who helped to make the trip successful.
From the left: Evelyn Gelger, Winnipeg Flight Attendant; Nicole Carnegie, Airport Customer Sales Agent; Jennifer Biebrich, Winnipeg Flight Attendant and Harold Bateman, Winnipeg DTF V.P. and Customer Sales Agent, Reservations.