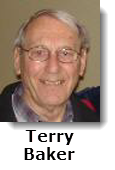 Terry Baker, co-founder of the NetLetter scours the internet for aviation related Trivia and Travel Tips for you, our readers, to peruse.
Fed up with the luxury cruises and resorts being offered?
How about one of these sites for your next vacation?
A double decker bus.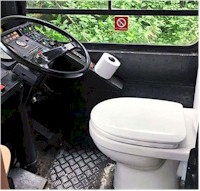 A double decker bus in Sturminster Marshall, Dorset, which has been converted into an Airbnb property, offers three-bedroom accommodation for up to six – with a fully equipped kitchen. Two nights in May for two adults and two children costs £247. The loo on the double decker bus is pictured here.
Check out UK: airbnb.co.uk/rooms/6579721
---
Or a prison perhaps.
Law-abiding citizens can experience what life is really like in jail in this one-of-a-kind prison-themed hotel. Penny Rope Bed Chamber in Margate, Kent, allows guests to pay for the pleasure of spending a night behind bars. The hotel has been built into the former cold store of a Grade II listed property in the town and costs as little as £75 per night.
(Source: dailymail.co.uk)
---
Or even this place Medieval Scottish home.
Step inside this modern-day medieval home - a luxurious Scottish Highlands retreat that has been made using 500 bales of straw. The eco-friendly home, which sits on an elevated position in Strontian near Fort William, uses the bales of straw as its main form of insulation and exports five times more power than it imports.
The property, called Jill Strawbale House, gets most of its power from two micro hydro generators and guests are encouraged to recycle and only use public transport during their stay.
(Source: www.dailymail.co.uk/travel/travel_news/article-5595173)
---
The article in NetLetter #1388 in "Alan's Space" of the aircraft restaurant, prompted Najam Jafri to recall one in Jakarta and sends this information -
Regarding the abandoned 737 in Indonesia, I remember during my visit to Jakarta Indonesia that there is a beach called Enchle. I witnessed a 737 Boeing parked there and being used as restaurant. If I find the photo in my file will mail to you.
Regards, Najam Jafri.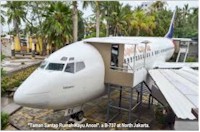 (Alan researched with Google and located this name and here is a photo.)
Taman Santap Rumah Kayu Ancol, North Jakarta.
For the location follow This Link
For photos of the aircraft follow This Link
---
How about a retired airliner?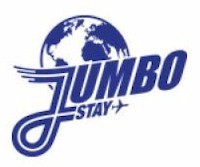 Welcome to JumboStay.
Travelers staying overnight at Arlanda Airport in Stockholm can sleep at the Jumbo Stay Hotel, that, as its name implies, is set in an old Boeing 747 that has been given a new role in the hospitality industry.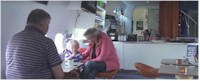 This photo is of the restaurant in the main cabin.

Here is a photo of the B747 hotel at Stockholm.
Jumbo Stay; Jumbovägen 4; 190 47 Stockholm Arlanda
Tel: +46 8-593 604 00 | Fax: +46 8-593 604 11
E-mail: This email address is being protected from spambots. You need JavaScript enabled to view it.
(Source: jumbostay.com)
---
Here is one in China.
A restaurant converted from a B737 passenger plane is parked on Guanggu Walking Street.


A retired Boeing 737 has been transformed into a Western-style dining space in Wuhan in central China's Hubei province. A Boeing 737 plane can typically carry 128 passengers while the restaurant can accommodate 70 guests at a time. In keeping with the aeroplane theme, waitresses were selected according to airline standards. Males need to be taller than 5 ft. 7 in. and females need to be taller than 5 ft. 4 in.
(Source: dailymail.co.uk)
---
There is even this one in India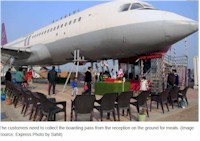 Aeroplane turns restaurant! Runway 1 serves multi-cuisine food at NH-1 on Ambala-Kurukshetra stretch.
A retired passenger plane has found a new life as a restaurant in the northern Indian city of Ludhiana in Punjab. Hawai Adda is 72-seater restaurant. It is made out of a junk Airbus A320 that once flew for Air India.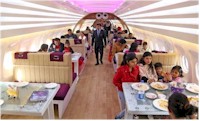 Parked just off the National Highway-1 on Ambala-Kurukshetra stretch which was turned into a restaurant. The customers need to collect a boarding pass from reception on the ground for meals.
(Source: www.financialexpress.com)
---
There used to be this one in Korea
Location: Suwon, Korea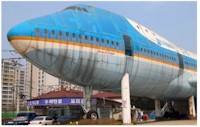 This Boeing 747 plane-turned-restaurant was the second Boeing 747 ever made and the first to be flown commercially. Although the plane at one point served diners looking for an eclectic dinner experience, it now sits abandoned in front of several apartment buildings.
(Source: dailymail.co.uk)
---
An old prop liner
DC-6 Diner, Coventry Airport West, UK


The plane, which is almost 60 years old, was built to fly 92 passengers in comfort across the Atlantic, before being converted to carry cargo, which included transporting racehorses. Now a 40-seater restaurant, it has an aviation-themed menu including an 8oz Rapide, Vampire gammon steak, Bomber T-bone steak and a Meteor marinade fillet. Punters can also have a look at the original cockpit to see what the plane was like when it was flying. Waiters can be called to tables using the original call buttons that would summon stewardesses.
Note from Ken Pickford - It's only 4 months short of age 60, delivered September 1958 to original operator Civil Air Transport of Taiwan, 4 months after first flight of the DC-8. It was one of the last 10 or so Douglas piston-engine airliners built.
(Source: dailymail.co.uk)
---
Another old prop liner here -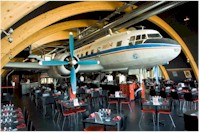 Next to Zurich airport, an old Soviet-made Ilyushin IL-14 takes center stage at aviation-themed restaurant Runway 34. (Source: Runway34.ch)
There are many retired aircraft converted into restaurants - check airliners.net