For complete details see: www.gimliglider.com/blog/
---
Vintage & Classic Aircraft Fly-In, North Weald, Essex, UK.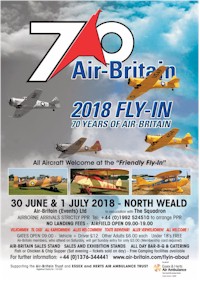 Air-Britain's Fly-In is the longest established UK Fly-In organized independently by and for aviation enthusiasts by Air-Britain (Events) Ltd, in association with The Squadron at the North Weald Airfield in Essex.
It aims to bring aviation enthusiasts, historians, pilots and anyone interested in aviation together in a relaxed aviation atmosphere to enable the sharing of experiences.
Also offered to the public is the opportunity to see what Air-Britain offers and to learn more about aviation and its rich history.
Click here for more details.
---
PWA Picnic - Reunion

Reunion Picnic in the Park - Sunday, August 12, 2018 from 12:00 PM to 11:00 PM - Hazelmere RV Park, 18843 8th Avenue Surrey, BC where we will reunite in a day of fond memories and embellished stories, all washed down with great food and the beverage of your choice.
The associated cost is $35 pp, which covers the venue, equipment rental and catering by B&B Gourmet Burger Truck.
The menu will consist of burgers (chicken, beef or veggie), corn on the cob, fries, potato salad accompanied by pop, coffee or bottle water. Serving time 15:00 - 19:00.
If paying by cheque, please forward to:
Gale Brisseau
416 Seashell Drive
Delta, BC V4L2L4
OR via e-transfer to This email address is being protected from spambots. You need JavaScript enabled to view it.
Payment must be made by the cut-off date of July 27th with NO EXCEPTIONS. There will be no provisions to accept payment on site. We would appreciate your co-operation in this matter as we must provide the caterer and venue office with firm numbers prior to the event.
More information at pwareunion.com
---
50th Annual Arlington Fly-In, July 6 - 8, 2018.
Arlington Municipal Airport
Arlington, Washington; West side of airport.
Airshows, Aviation Exhibits, a new Street Fair, Drone Light Shows, Warbirds, Military Vehicles, Parades, Hot Air Balloon Glow, Workshops, Food, Live Music, Movies and hundreds of aircraft in all shapes and sizes.
More information at arlingtonflyin.org