In NetLetter #1400, under the CP Air section, we had a report of the AC/Canadian BC district Reunion, and a mention that the CBC had interviewed several retirees regarding their involvement with the crash of CP 021 in July 1965.
Marlie Kelsey has sent us this information -
"The first two of six episodes of the podcast, titled Uncover, will be released November 12, 2018. The following four episodes will be released online week by week. Once they are released, you will find them here: www.cbc.ca/radio/uncover Also on November 12, the first part of the documentary will air on television on our nightly news program, The National. And I believe the final part of the documentary will air December 10, 2018."
---

For five decades Leslie Corness covered aviation events around Edmonton. On this occasion it was the inaugural visit in August 1958 of CPA's new Bristol Britannia.
A gleaming CF-CZW "Empress of Edmonton" was assigned for the day's duties and you can see that Edmontonians responded enthusiastically.
Can you imagine such a casual community event today at a major airport!
(Source: From the Leslie Corness collection via Larry Milberry/CANAV Books)
---
More from NetLetter #1397 to give some different passenger tickets we have more copies of some Canadian Pacific Airlines documents from the personal collection of Gklavas Athanasios that he started since 40 years.
(Source: airticketshistory.com)
Ticket issued May 19, 1963 for travel Munich to Amsterdam to Vancouver to Seattle to Victoria.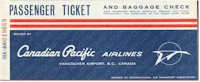 This ticket issued November 10, 1964, no other details.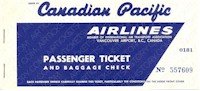 Issued on September 7, 1965 for travel from Nandi to Auckland.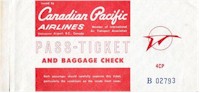 This ticket was issued for return travel from Amsterdam to Vancouver on March 21, 1967.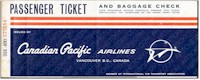 For travel from Toronto to Mexico to Los Angeles to Toronto on June 1, 1967, this ticket was issued.
---
July 4, 2018 - PWA Edmonton Mini Ramp Reunion.

Dennis Erickson posted this information on www.pwareunion.com on July 4, 2018 -

History has been made at Fawn Meadows RV Resort Delburne AB. First annual Pacific Western Airlines YXD ramp reunion has been held and was very successful with many great airplane stories of properly loading an airplane on time.

In the early 70's, the airline service into Canada's north was booming. Communities such as Inuvik, Yellowknife, Norman Wells, Resolute, Cambridge Bay, Uranium City and others saw strong growth. PWA saw this opportunity and put cargo aircraft such as 732 and later 742, the 727's, Hercules and Lockheed Electra freighter aircraft. It was this ramp crew that loaded and off loaded tons of cargo, baggage and mail. In terms of tonnage, it was probably the biggest ramp operation in the system.

Add into that the 20+ daily Airbus flights and regular domestic schedule, this crew was some of the hardest working guys in the system.

(Note - If Dennis would care to supply some names, we will let you know - eds)

---

The Pacific Western Airlines 2018 - Picnic/Reunion mentioned in NetLetter #1393 took place on August 12, 2018.

By all accounts, this memorable event was an overwhelming success. Kudos and thanks to Gale and all the organizers - volunteers who made this happen. Thanks to Glynis Santee, Neville Gosling and Gale Brisseau for the photos.

There are a host of photos on the web site pwareunion.com

Here we have several of the photos, (but no identifications unfortunately - eds)