Neil Burton sends us some information to supplement the article in NetLetter #1400 on Prairie Airways –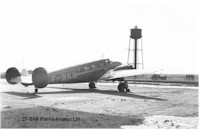 Aircraft CF-BKN is a Beechcraft 18D, built in 1938 and registered to Prairie Airways Ltd, Moose Jaw, SK, on 09 July 1938. The aircraft was then, by name change registered to CPAL, Winnipeg, Manitoba in 1942.
This aircraft was then exported to T.A.C.A., Venezuela, in 1944. Prairie Airways also had a Beechcraft 18D registered as CF-BKO, having the same registration and transfer dates.
(Source: Canadian Civil Aircraft Register 1929-45 by John R. Ellis, published by CAHS.)
The hangar is believed to be on Moose Jaw Airport (Rosedale Airport), which was on the northwest edge of Moose Jaw. Hangar may have been destroyed by fire in April 1947 (Vancouver Sun) .
Photos were taken by Douglas A.B. McPherson when he was assigned to the Moose Jaw Flying Club for R.C.A.F. training – 03 March 1941 – 26 April 1941.
Doug McPherson was the first student of the Kamloops Aero Club to solo at about 07:30 hrs. – 15 June 1939. The club's instructor was Terence H. Finney. After serving in WWII, and being "missing in action", Doug returned to Kamloops, in November 1945, and was provisional president of the Kamloops Flying Club, before re-categorizing, as instructor, with the Aero Club of B.C. He then instructed his first trainees on the Tiger Moth aircraft in late January 1946.
McPherson moved his family to Victoria, B.C, in November 1948, where he may have joined the Victoria Flying Club.
Sincerely, Neil Burton – 16 October 2018
---
Heather Johannson tells us that friend, Gail (Horton) Hodges, was telling her about her flight attendant Mum, Violet Kirchhofer.
The attachment was an article from the Lethbridge Herald April 1945 regarding Robert McAfee, a passenger on a flight from Lethbridge to Vancouver who suffered a medical emergency 30 minutes out of Lethbridge, during which Stewardesses Violet Kirchhofer and Dorothy Elizabeth Barton administered oxygen. The flight returned to Lethbridge where Robert McAfee was transferred to the local St. Michael's hospital.
Violet Kirchhofer married Kenneth George Horton who worked for Trans-Canada Air Lines/Air Canada for about 40 years. His final assignment was at Place Ville Marie in Montreal. I have an Air Canada "Horizons" paper dated November 29, 1977.
He was the Manager of Cargo Pricing. In the article her dad thanked Doug Spalding, Ian Gardner and Gary Bocking for organizing his retirement party. Later, Ken left Montreal and moved to British Columbia for health reasons.
---
From Bill Cameron -

Thank you for the comments in NetLetter #1401, about Montreal, Dorval airport.

In 1957 I was transferred from Winnipeg to Montreal, Dorval airport as a CPAL Flight Dispatcher. The CPAL operation was carried out in a long-gone building, that had been the Trans-Atlantic Ferry Terminal of the 1940's.

The `new` Terminal building was constructed in the next few years, and opened for operations in 1961. Colleagues and I walked through the spacious Terminal, and wondered why it was built so large. Little did we know that with the advent of large jet aircraft in the next decade, the building would actually be too small.

In 1971, I was appointed Station Manager at Dorval, for CPAL, and saw the growth of the industry, that precipitated the disastrous attempt to move the bulk of all operations to a new airport at Mirabel, QC. The rationale for such a major change seemed to be concerns about `Nose Abatement` in local communities adjacent to Dorval. But, with technical advances in noise suppression, the move to Mirabel ultimately was abandoned.

Had the Mirabel Airport become operational in the late 1970`s, there is no doubt that Montreal would have ceased to be a major Hub for Domestic and International airline operations.

Regards,

Bill Cameron – retired Canadian Airlines 1986