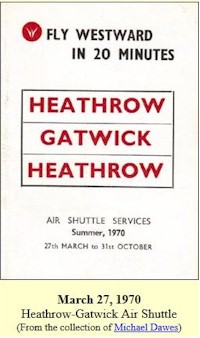 The new shuttle service between London Heathrow (LHR) and Gatwick (LGW) operated by Westward Airways got under way on June 25, 1969 with a Britten-Norman Islander six times a day in each direction.
(Source: Flight International July 2, 2019)
Additional References (thanks to Ken Pickford)
Wikipedia article on shuttle service between LHR & LGW; see paragraph 2 of 'Background'
www.ianvisits.co.uk - 50 years ago – planes start flying between Heathrow and Gatwick
abpic.co.uk - Images of Westward Airways aircraft
---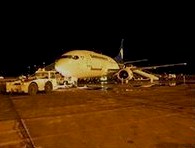 Calgary-based Canadian North and Ottawa-based First Air have finalized their plan to merge, paving the way for the combined carrier to integrate operations as part of a strategy to serve 24 Arctic communities.

(Source: atwonline.com July 11, 2019)
---
Early Trans-Canada Air Lines historical events.
Results from Bermuda in 1946.
Following the meeting between Canadian and British Government representatives in Bermuda, a bi-lateral Canadian-British agreement has been signed whereby a maximum of three hundred and fifty passengers every week will be able to fly each way on Trans-Canada Air Lines and B.O.A.C., aircraft, the companies operating jointly.
The two terminals will be Dorval, Montreal, and Prestwick — the latter until Heathrow (LHR) is fit for all-weather use. In the meantime, Trans-Canada Air Lines have reduced their Atlantic fare to £83 for the single journey, as against the £127 previously charged. The service is now opened to non-priority passengers.
(Source: flightglobal.com/pdfarchive/view/1946)
---
As early as 1946, TCA was thinking about serving the Pacific?
An agreement has been concluded with Australia to provide for future pooled services between Australia and this country. There will actually be two Pacific services, one operated by Trans-Canada Air Lines, and the other jointly by British, Australian and New Zealand operators. For a start there will be two services a week in each direction, with stops at Fiji, Canton Island, Honolulu and San Francisco. The terminals will be Sydney, Auckland and Vancouver.
The combined organization, including the interests of Australia, New Zealand and the United Kingdom, will, it is recommended, be vested in a new organization known as British Commonwealth Pacific Airlines. No decision has yet been taken about the aircraft types to be used by B.C.P.A., but Trans-Canada Air Lines will be using Canadian-built Merlin-engined DC-4's.
(Source: flightglobal.com/pdfarchive/view/1946)