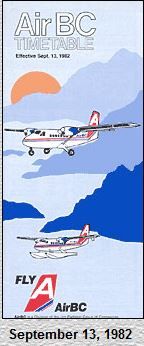 Here we have this AirBC timetable issued September 13, 1982.
From the Bjorn Larsson collection.
(Source: timetableimages.com)
---

Here is a 10 minute video of the operation by the Jazz Ramp Rats in 2008.
---
Memorable dates in Air Canada history:
1987 -
March 1 - Edmonton-Ottawa non-stop service re-introduced. The non-stop service was discontinued in October 1986.
April 26 - Service returned to Vienna from Toronto after a 10 year hiatus.


2013 -
July 1 - Air Canada Rouge first inaugural flight was AC1920 Toronto to Kingston, Jamaica.
July 3 - 777-300ER first entered service with Air Canada between Montreal and Paris.
December 14 - Inaugural service Toronto to Vail under captaincy of Jim Florence.
---
Time Travel: 75 Years in Events.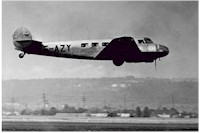 Air Canada was born as Trans-Canada Air Lines (TCA) on April 10, 1937. From first takeoff to present date, its history has been full of high moments.

Passenger operations kick off on September 1, 1937. A Lockheed Electra, carrying two passengers and mail, goes from Vancouver to Boeing Field, Seattle, in 50 minutes. The ticket costs $7.90 one way, $14.20 return.
(Source: moments.aircanada.com/timeline)
(More next NetLetter – eds).
---
Empire Honours
The thousandth crossing of the Atlantic by Trans-Canada Air Lines was made December 1946 by this Lancastrian, photographed after landing at London Airport, Heathrow.
The Merlin engines used on this route are T.24-4's specially modified to deal with severe icing conditions.
(Source: flightglobal.com)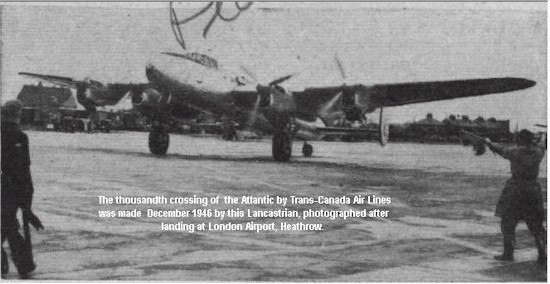 ---
Here we located this photo of Lancastrian CF-CMW at Prestwick cica 1946.
On July 9, 1946, under the command of Captain G.B. Lothian, this aircraft flew from Prestwick-Montreal-Vancouver in an elapsed time of 28 hours 23 minutes.
Sold to Skyways Ltd who leased it to Onzeair Ltd of Karachi as AP-ACM the aircraft crashed at Manipur Airport, Karachi while landing on a flight from Rawalpindi on August 1, 1948 while delivering a cargo of illegal arms.
(Text source: Air Canada A Pocket Guide)

(Photos Source: flightglobal.com/pdfarchive)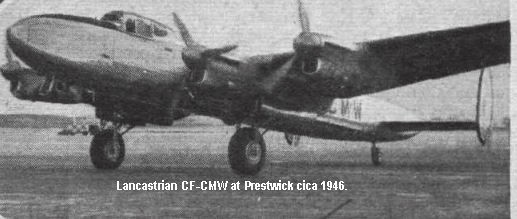 ---

From the "Horizons" magazine
Issue dated June 1991.
National Pionairs Executive 1990:
Leo McIntyre - President; Mike Lewicki - Past President; George Daman - First V.P.; Bob Blanchette - 2nd V.P.; Fraser Muir - Treasurer; Helen Gunton - Secretary.
District Directors 1990:
Lorne McDermot - Victoria B.C.; Donella Robertson - Vancouver; Ken Morrison - Calgary; John Klem - Winnipeg; Stephanie Mandzie - Winnipeg; Lloyd Wedge - Ottawa; Al Husted - Ontario
National Pionairs Executive 1991: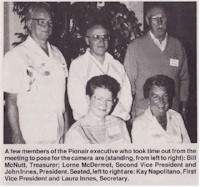 John Innes - President; Leo McIntyre - Past President; Kay Napolitano - First V.P.; Lorne McDermot - 2nd V.P.; Bill McNutt - Treasurer; Laura Innes - Secretary; George Clifford - Pension Rep; Normand Cadieux - AC Liaison;
Bernice Paul - Pension & Estates Office.
District Directors 1991:

Frank Takasaki - Sidney, BC; Donella Robertson - Vancouver; Ken Morrison - Calgary; John Klem - Winnipeg; Stephanie Mandzie - Winnipeg; Chuck Taylor - Ontario; Lloyd Wedge - Ottawa; Maureen Swiednicki - Montreal; Peter McCarthy - Halifax; Ralph Goodmurphy - USA.
---
Issue dated February 1982.
Pionairs plan for California.
The Pionairs Board of Directors met at Vancouver and high on the agenda was the AGM to be held in Anaheim, California May 14 - 17, 1982. The Board reported that "all systems were go" and that 500 retirees and spouses were expected to attend.

Members of the new executive are seated, from the left: Bill Spratt, First VP; Don Murphy, Secretary; George Fox, President; Ozzie Candy, Second VP; Joe Lorimer, Immediate Past President.
Standing for the left: Martin Betts, Founding President and Pension Representative; District Directors Paul Emmerson, Halifax; Jack Somerset, Vancouver; Gord Smith, Toronto; Evelyn Desjardins, Montreal; Gord Hooper, Calgary; Beth Ferguson, Winnipeg; Charlie Woolley, Victoria; Ken Taman, Ottawa and Roger Alain, Tampa representing Florida.
Missing from the photo was Hudson Connolly, Treasurer.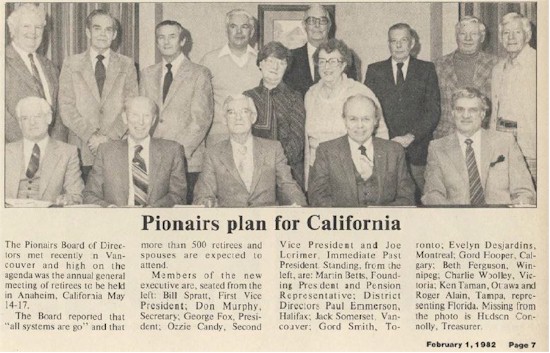 ---
Issue April 1986.
Charlottetown staff have several reasons to celebrate 1986. Along with participating in the 50th anniversary festivities, employees are welcoming their move into the recently completed airport terminal.

"As well, 1986 holds special meaning as we approach the completion of the tenth year of commercial operations," notes Al Rach, Manager, Prince Edward Island.

The Charlottetown staff are, standing, from the left: Wayne Handren. Customer Sales and Service Agent; Al Rach, Gina Leblanc, Secretary; Beverley Young, Customer Sales and Service Agent; Marlene Gairns, Clerk and Gary Turnbull, Station Agent.

In the front row are, from the left: Len Durden, Station Agent; Station Attendants Jim Tingman, John McEachern and Frank Ramsay, Station Agent.

Missing from the photo are: Garth Rogers, Station Attendant; Roy Eastwood, Station Agent and Customer Sales and Service Agents Trafford Allman, Dave Spence and Anne Robichaud.
---
Haiti service resumes.

Air Canada resumed scheduled service to Haiti on Saturday, April 12, 1986.The B-727 service operated once a week, with all flights departing from and returning to Montreal on Saturday.

Air Canada's last scheduled flight to Haiti took place on Saturday, Feb. 1, 1986 and the service was cancelled the following Saturday. However, on February 10 and 17 (both being Mondays) the airline operated two northbound-only ''rescue'' flights from Haiti.
---
Issue dated January 1987.

Gift of wings.
The Canadian Maple Wings Association presented Toronto's Hospital for Sick Children with a cheque for $12,000. The funds, raised at the April reunion, will be used to purchase updated medical equipment.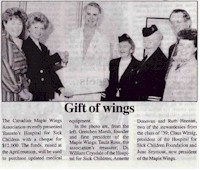 In the photo are, from the left: Gretchen Marsh, founder and first president of the Maple Wings; Tuula Ross, the association's treasurer; Dr. William Crysdale of the Hospital for Sick Children; Annette Donovan and Ruth Heenan, two of the 'stewardesses' from the class of '39; Claus Wirsig, president of the Hospital for Sick Children Foundation and June Seymour, new president of the Maple Wings.
---
The Barbados load office staff in the photo are, from the left: John Buchanan, John White, David Edwards, Ken White and Robert Roach.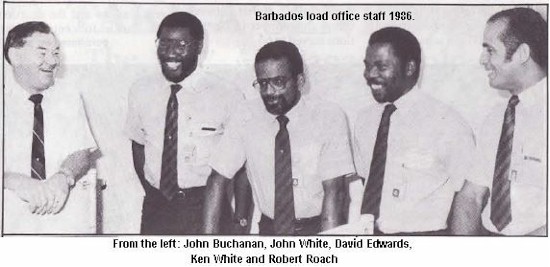 ---
Three join the club.

Three women who joined Air Canada's Paris office back in 1961 were recently reunited to celebrate their 25-year service anniversary and their entry into the station's quarter century club.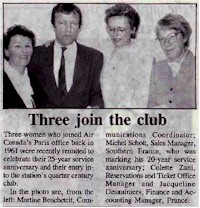 In the photo are, from the left: Martine Benchetrit. Communications Coordinator; Michel Schott, Sales Manager, Southern France, who was marking his 20-year service anniversary; Colette Zani, Reservations and Ticket Office Manager and Jacqueline Desaulniers, Finance and Accounting Manager, France.
---
Issue dated March 1987.

The crew of the Air Canada/P. Lawson Travel's "Around the World Voyage #2" in B-747 fin # 304.

Back row, from the left are: Bob Kent, Commissary Liaison Supervisor; Jack Pentre, Load Support Manager; Greg Lewis, Maintenance Foreman; Flight Attendants Gretha Van der Heyden, Merri Cameron, Helen Kokovay and Marie-Claire Labossiere; Mac Anderson, Flight Service Director; Flight Attendants Julie Cameron and Sonny Tkach; Jan Wegman, Route Operations Supervisor; Bob Rathwell, Project Manager/Special Sales.

Front row: Flight Attendant, Harry Lane; Captain Don Stinson; Flight Attendants Annette Braley, Eileen Shering, Lillian Stack, Willa Davidson and Mary Dohey; Dave Lamb, Line Check Second Officer; Marg Guimond, Coordinator, Current Operations Planning; Flight Attendant Donna Walker; Terry Telenko, Area Commissary & Catering Manager and Captain Jim Chivers, Flight Manager, B-747.