The youngest licensed aviator in the world - early flying career.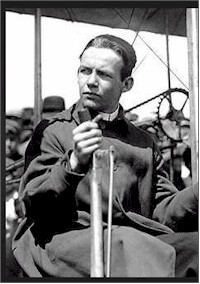 Farnum Thayer Fish was born in Los Angeles, California on October 5, 1896 to a wealthy physician. Fish enrolled in the Wright Flying School near Dayton, Ohio in 1911 at the age of 15.

He stated in a 1971 newspaper article that he received four hours of lessons from Orville Wright. On January 12, 1912, the Aero Club of America issued him Fédération Aéronautique Internationale Airplane Pilot's Certificate #85.
(Source: en.wikipedia.org/wiki/Farnum_Fish)
---
BAC to the future -.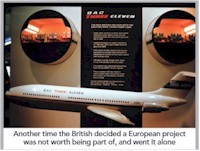 Sent to tidy the loft, Roland Harries came across this 35 mm slide, taken at a Paris air show in the late 1960's, showing the now largely forgotten BAC Three Eleven, a concept that never made it into the sky. British Aircraft Corporation had pitched the design against the Boeing 727-200 and the proposed European Airbus.

While the 727 remained in production until the 1980's and 12,000 Airbus airliners have gone into service, the government failed to put its weight behind the Three Eleven, and the wide body was consigned to the attic of aviation in 1971.

(Source: edition.pagesuite-professional.co.uk)
Note: The link brings you to a 'Flipbook PDF'; the article appears on page 35.
---

Further to the article "Canada's First Airmail" in NetLetter # 1422 under "Odds and Ends", we have this article from the "Horizons" magazine, Issue dated September 1987.

Please click the icon.