Air Canada and the Air Canada Foundation are working with Canadian food rescue organization Second Harvest's FoodRescue.ca to redistribute fresh food items from our in-flight kitchens as we begin suspending the majority of our international and U.S. transborder flights as a result of the COVID-19 crisis.
(Source: aircanada.mediaroom.com)
---
Horizons on a break.
To help ease COVID's impact on our business, we have suspended the publication of April Horizons and subsequent issues until further notice. We encourage you to stay informed of latest news and updates through The Daily through acaeronet.
(Source: AC Daily April 2, 2020)
---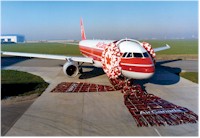 Air Canada's first A320 arrived back in January 1990 to a lot of fanfare and ceremony but is quietly retiring to Marana Pinal Airpark (MZJ) in Arizona.
C-FDQQ made its last commercial flight (AC426 YYZ-YUL) on March 31 and was ferried to MZJ on April 6.
As mentioned in Wayne's Wings article in NetLetter #1324, the A320 was had been the subject of much controversy but, after thirty years of workhorse service, it certainly has proven its worth.
Still don't know whatever happened to those earmuffs; it won't be needing them in the desert!
(Source: SimpleFlying.com)
Additional reference: