Guy Goodman sends us this -
Greetings to all from snowy YOW.
I have recently come into possession of a couple of first day covers from AC inaugural flights. One is dated December 13, 1965 to celebrate inauguration of Toronto / Freeport (YYZ-FPO). The other is the next day, December 14, 1965 for inauguration of Halifax / Bermuda (YHZ-BDA).
Both envelopes remain sealed but each has a sheet of paper inside. Reading through the envelope with a bright light behind it, each seems to be from R. C. MacInnes, Director of Public Relations and reads as follows - To mark the occasion of Air Canada's inaugural flight Toronto-Freeport [Halifax-Bermuda], I am pleased to send you this commemorative cover.
I imagine many were sent out on that day but who knows how many remain.
I wonder if there any philatelists out there who can tell us whether these have any rarity interest and/or value.
Best regards to all,
Guy Goodman.
---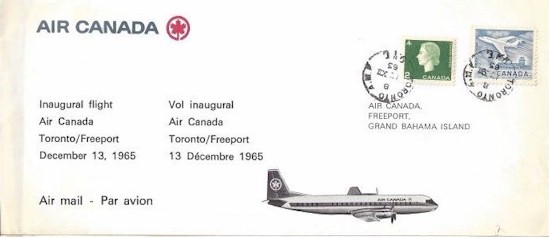 ---