Bea Backwell sends this comment and photo of the Bristol Brabazon –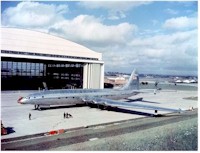 The plane that never was.
Largest aircraft ever built at the time, it had test flights but nobody wanted it.
Additional Info:
en.wikipedia.org/wiki/Bristol_Brabazon
Editor's note from Terry Baker -
I remember seeing this aircraft in flight, but it never got into production, no buyers – it was ahead of its time.
On 17 July 1953, Duncan Sandys, the Minister of Supply, announced that the Brabazon had been cancelled due to a lack of military or civil orders for the type.
In the end, only the single prototype was flown; it was broken up in 1953 for scrap, along with the incomplete turboprop-powered Brabazon I Mk II.

The Bristol Brabazon, 1987 Documentary
---
Subscriber Hans Sittler sent us this video -
I took the video at the "AC Winter Games", a meeting of AC management from all around the world. We gathered in YUL, by bus to Montebello where AC had booked the complete Fairmont Le Château Lodge. During the day we built teams and participated in various competitions, including curling, which was a first time for me.
In the evening a dinner was arranged, Robert Milton gave a speech and the people enjoyed a Beatles Revival band.
Those were the good days. I'm not even sure about the year, but I think it was in winter 2008. Perhaps somebody in your team remembers the occasion.
Best regards
Hans