Mike Nash sends us this information -
The World's Largest Weathervane, a DC-3.
Regarding the note and photograph of the DC-3 at Erik Nielsen Whitehorse International Airport in NetLetter #1447, did you know that this monument rotates on its pedestal to make what is claimed to be the world's largest weather vane?
It takes a 5 knot breeze to turn the aircraft. I first noticed this in August 2008 when it appeared to be pointing in a different direction in the morning than it had been the night before, causing me to wonder if I had imagined it or if it truly turned on its base.
Below is the picture that I took on that occasion at the Yukon Transportation Museum next to the airport. Note that the linked article (link below) says it was moved here in the summer of 2009, which is incorrect as I took the picture a year earlier in August 2008.
Reference:
www.atlasobscura.com/places/worlds-largest-weathervane-dc-3
Sincerely,
Mike Nash
Editors' note:
The article at the Explore North website may explain the reference to the aircraft being moved in 2009. The last paragraph states:
"In July 2009, "Charlie Papa Yankee" once again was brought down from her pedestal, this time to be moved a few hundred meters to a new location at the constantly-expanding Yukon Transportation Museum. There, she remains one of the most popular attractions in Whitehorse".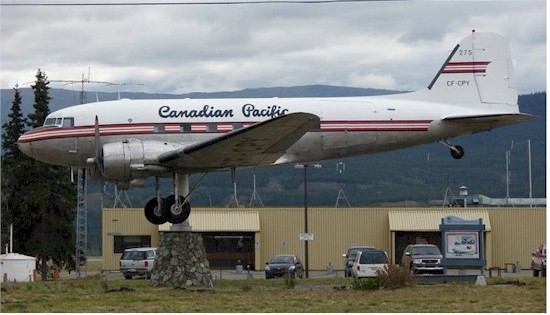 ---
Ken Starnes sends this information referring to the photo of the "Yukon King" under "Submitted Photos" in NetLetter #1447 -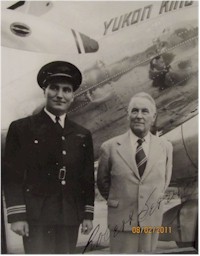 The man in the suit is Robert Service, a famous poet. His name is on the photo. He worked at the Canadian Bank of Commerce in Dawson City.
'The Bard of the Yukon', 'The Cremation of Sam McGee' and 'The Shooting of Dan McGrew' are a few of his works.
More on the life of Robert Service can be found at Wikipedia.