We first mentioned the induction of former Canadian Airlines CEO, Rhys Eyton to Canada's Aviation Hall of Fame in NetLetter #1473
Thanks to Pionairs member Maureen Worrall for this photo of Peter Wallis and Lynn Eyton and the notice below from Mr. Eyton's induction.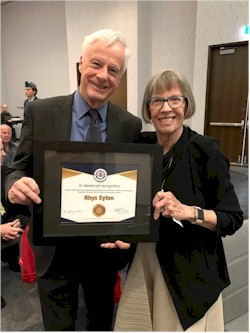 For his outstanding contribution to Canada's aviation industry, Rhys Eyton was inducted as a Member of Canada's Aviation Hall of Fame at the 47th Induction Ceremony on June 23, 2022 at the Marriott Calgary Airport Hotel. Mr. Eyton was joined by five other inductees, who were also honoured at the Ceremony for their advancement of aviation in Canada.
In his letter nominating Rhys Eyton as a member, Calin Rovinescu, former CEO of Air Canada, noted that "becoming a Member of Canada's Aviation Hall of Fame is one of the most significant tributes that can be bestowed on an individual in Canada's aviation community".
Canada's Aviation Hall of Fame captured Rhys Eyton's 29-year career in the following transcript from a short video presented at the ceremony as follows:
"A leader in Canada's commercial aviation sector, Rhys Eyton joined the Finance Department of Pacific Western Airlines in 1967. Over the next decade he assumed positions of increasing responsibility until, in March 1976, he was appointed President and CEO of the airline. In addition to streamlining the company, Rhys Eyton began to acquire regional carriers and then, in 1987, Canadian Pacific Air Lines.
The new company, Canadian Airlines, expanded again following the acquisition of Wardair. In 1989 Rhys was appointed Chairman, President and CEO of Canadian Airlines International and served in this capacity until retirement in 1995. During a transformative era in Canada's airline industry, which included deregulation, Rhys Eyton's vision led to the expansion of a truly competitive Canadian domestic, transborder and international carrier. His decency and leadership played a key part in his airline becoming one of the largest private sector employers in Western Canada peaking at approximately 25,000 employees in 1994.
Between 1976 and 1994, revenues rose from approximately $100 Million to $3 Billion. Having shepherded his airline through regional mergers and building it into a truly national carrier, there is little question that Rhys Eyton reshaped the nature of the airline industry in Canada"
Widely recognized by his community and aviation peers, Rhys served, amongst many other positions, as Chairman and Director of the Conference Board of Canada, the Air Transport Association of Canada, and as President of the International Air Transport Association. He was awarded an Hon Doctorate of Laws (LLD) by the University of Victoria in 1990.
Due to the onset of Alzheimer's, Rhys' wife, Lynn, and other family members proudly accepted the Recognition Plaque on his behalf, and acknowledged that he had led a full and accomplished life.
---
More than just a memorial bench at Vancouver International Airport (YVR).
Recently, YVR discovered that some of the memorial benches that live along the south side of the airport by the river dyke were showing signs of age.
As our maintenance team began reaching out to the families with memorial benches, the team quickly learned that these were more than just benches. It was a reminder that the Sea Island community we serve is more than our valued passengers and employees. It is about our whole community. And this is a big reason YVR exists to serve our community and the economy that supports it.
This is a story about YVR's amazing maintenance team and how they went above and beyond for families who have lost loved ones. Prior to implementing YVR's plan to restore the memorial benches, YVR contacted the families to discuss our proposal. From these conversations, we learned about the story of a retired Canadian Pacific Airlines (CPA) pilot, Captain John Rennie.
More than just a memorial bench at Vancouver International Airport (YVR)
Jack began his career as an airplane mechanic in 1938 before becoming a bush pilot and found himself stranded in the extreme north with his crew on a couple occasions. Their plane once caught on fire while flying to the Eldorado Mine in the Northwest Territories. Thankfully, Jack and his crew managed to escape before the ammunition they were transporting set off. They survived for nine days in brutal weather conditions of -40°C to -50°C before a bush plane finally rescued them.
Jack later flew for CPA when Grant McConachie formed the airline in 1942 and retired in 1975. His son, John, now tells his story and recalls with fondness the memories his father shared with him. Our previous development projects from 50 years ago were still fresh in John's mind and we were once again reminded of the long-lasting impact YVR has on individuals and communities.
When YVR invited John to come and fasten the last piece of Jack's bench, he joined us wearing his father's old flight suit and with all the memorabilia to go along with the stories he had shared.
This was a magical moment and made us remember what our community needs and expects from us. It was a reminder that we are more than just an airport.
YVR's memorial bench program is not currently accepting new applications.
Source: www.yvr.ca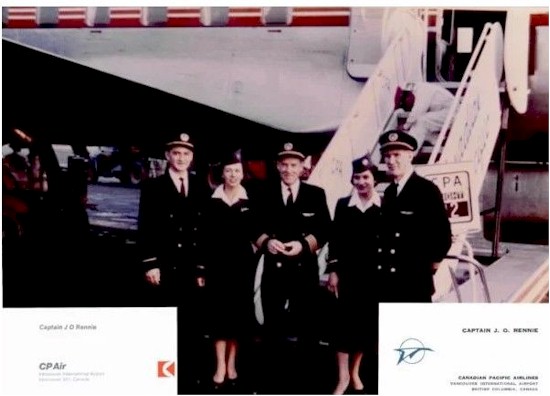 ---

From the 'CP Air Blue Skies' magazine.
Issue dated 1978
The CP Air Communications Advisory Group met at the Airport Inn last month to review forthcoming advertising and employee communication programs that are being developed for the future..
In this photo we have:
Back row, left to right: Stan Sierpina; Larry Lehna; Jerry Kielmann; Jim Thirsk; Mike Gray, Observer; Tony Craig; Wayne Irving; Peter Partridge, Guest Speaker; Lorne Paterson.
Front row, left to right: Val Tearle; Nina Morrison; Georgia MacFadyen; Tom Laurie; George McRobbie; Sherann Broder, Secretary; Al Bingham; Frank Healy and Jack Webb, Golfer Extraordinaire cum Founder.
Missing from photo is Peter Golding, CP Air News Editor.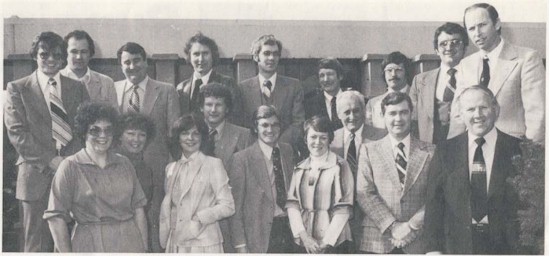 ---
A tour of Britain for CP Air Employees and Parents.
This super tour began at Manchester Airport on the morning of Monday, September 17, 1978 and finished at Manchester Airport on the morning of Thursday, October 4 1978.
It included visits to Lancashire, Lake District, The Trossachs, Highlands, Edinburgh (3 nights), Yorkshire, Stratford, Warwick, Oxford, Welsh Border country, Wales and lots more (18 days/17 nights included, dinner, bed and breakfast in Superior Hotels with bath (per person sharing)).
Travel in deluxe club coach. 34 seats only. Porterage of one bag per person. Services of an expert courier throughout: Alan Drummond in Scotland and Mike Dixon in England and Wales.
Reservations were held with a deposit to Dixon and CP Air Travel. Getting to and from Manchester was on CP Air Holidays Charter Flight.
Editors' Note: Does anyone have any memories of this trip to share?