Roy Novell has submitted these photos from the late 1970's and early 1980's of the crew at the London Heathrow (LHR) Maintenance group.
Thanks Roy!
R. Cosier, Mark Burridge, Andy Bradford, Dave Hartley, Gorden Kempson, John Young, Mark Gale, Fred Warwick, George Rowe and Peter Hall.
Kneeling: Steve Girling.
---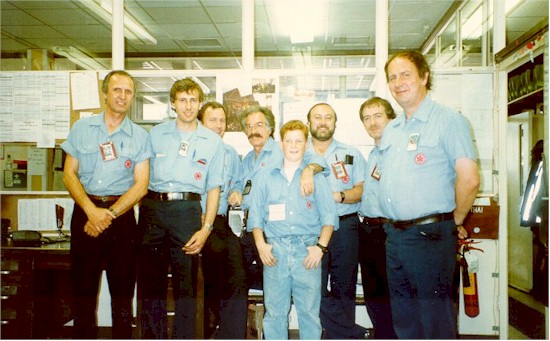 Henry Sewall, Clive Hawkins, Roy Novell, Gio Forte, unidentified, Steve Lacey, Chris Shephard and Rod Marsh.
---
Mark Gale, Dave Higgins and Chris Shephard.
---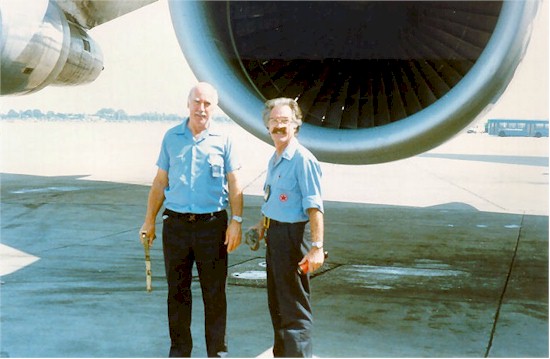 Vaughan Jones and Gio Forte.
---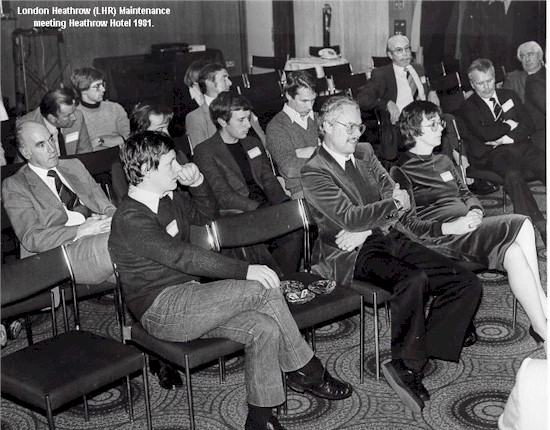 Middle row: Vaughan Jones, Roy Novell, Clive Hawkins, Keith Merr.
Far right: Tommy Callaghan (PIK).
Front row: Steve Girling, Karl Nigeljeen (FRA), Marie Earley.
---
Len Kay, Judy ???, George Rowe, Bill Cameron, Brian Hemmings, Jimmy Crook, Steve Lacey, Roy Novell, unidentified, Dave Piper and Pete Hall.
---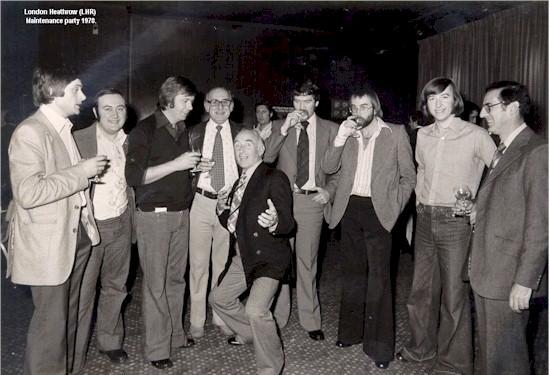 Steve Girling, Steve Lacey, Roy Novell, Len Kay, Clive Hawkins, Bernie Greaves, unidentified and Pete Hall.
Front row: Jimmy Crook.
---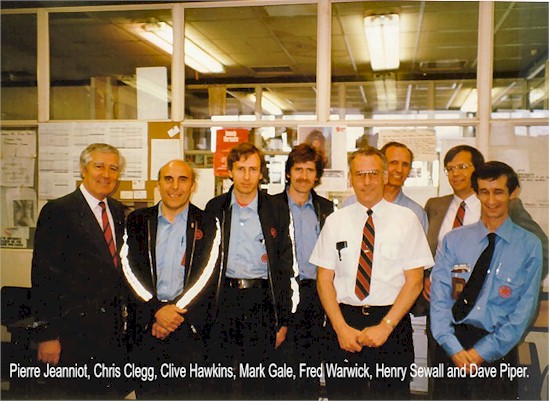 Pierre Jeanniot, Chris Clegg, Clive Hawkins, Mark Gale, Fred Warwick, Henry Sewall and Dave Piper.
---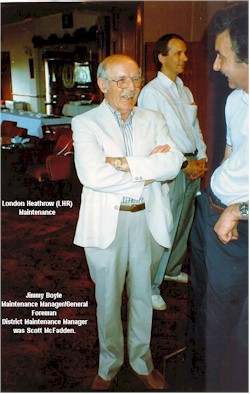 Jimmy Boyle, Maintenance Manager/General Foreman ex PIK.
Roy notes that Jimmy employed him in 1969. The District Maintenance Manager at that time was Scott McFadden (not pictured).
From subscriber Paul Stenner regarding NetLetter #1492
I always look forward every second Saturday for the new edition of 'The NetLetter'.
This week I enjoyed the story on the ill-fated de Haviland Comet.
I wish to point out the the spelling of de Havilland has a lowercase 'd'. This is a common error and I hope that you accept this in a friendly and not critical way.
Keep up the good work and keep the editions running.
All the best,
F/O Paul Stenner (AC Retired.)
---
Ken Pickford responds:
Mr. Stenner is correct! The small 'd' is historically correct in "de Havilland", but since the upper case 'D' is common, I used that format. Note the current De Havilland Canada (formerly Viking Air) uses upper case 'D' consistently in the company name and other references.

See: dehavilland.com/en
The lower case 'd' was correct for the British company, which ceased to exist in 1963 after being absorbed by Hawker Siddeley, which later became part of British Aerospace.
The lower case 'd' is also correct in a person's name, e.g. founder Sir Geoffrey de Havilland, and other names of French origin that include "de". Note the BAE history website has quite a few upper case D references.

See: www.baesystems.com/en/heritage/de-havilland-aircraft-co-ltd
Also noted this excerpt:
Over the years De Havilland (the company) and de Havilland (the family) faced many setbacks.
---
Greetings from Germany!
I was contacted by a former LH colleague who would like to know where this picture was taken. I told him that I think it is YUL, but that I will contact you to be sure my statement is correct.
Appreciate your help and thanks for the great work you are doing, keeping the memories alive.
Best regards
Hans W. Schütt
Ken Pickford agrees:
Definitely Montreal (YUL), Lufthansa B-707 on left, AC Vanguard on right. Around mid-1960's based on LH livery.