Having read the article regarding the Viscount in NetLetter # 1379. Clint Ward sent us this information.
It is a very important aircraft in my career because it's the one I got promoted on and I flew it for almost 12 years before I embraced the jet years.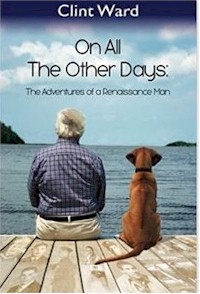 There are three important airplanes for me - the very first I ever touched the controls on, the Harvard, then the Viscount for the reason already stated and finally the 747 which I was lucky to be on in my last 12 years.
I have written a Memoir called "On All The Other Days." The title is from a Peanuts cartoon where Charley Brown and Snoopy are sitting a dock looking out on a lake. Charlie breaks the silence, "Someday we will all die, Snoopy."
"True," Snoopy replies, "but on all the other days we will not." They are words that daily inspire me because several years ago, I was within a close death and was very fortunate to survive so all the other days have great meaning. There is second interpretation as well. I was a professional pilot but on all the other days I managed to indulge in many things, flying, sports, theatre, music and film. Writing occupied my spare time and it is all covered in the book. It is available on Amazon in colour or black and white.
More about Captain Ward:
"On All The Other Days" is a memoir of the multi-dimensional renaissance journey of author, Clint Ward. It is a rare glimpse "behind the curtain" of a life well-lived, interwoven with epic proportions of high flying adventure, sportsmanship and world travel. After high school, a short stint in Canada's Royal Canadian Air Force set him on his vocation as a professional aviator.
Throughout a career that spanned nearly 40 years with Trans-Canada Air Lines and Air Canada, he piloted seven different aircraft, including 12 years as a captain on the Boeing 747.
Click Here for his Facebook page.